Adoption Change Management & Microsoft Teams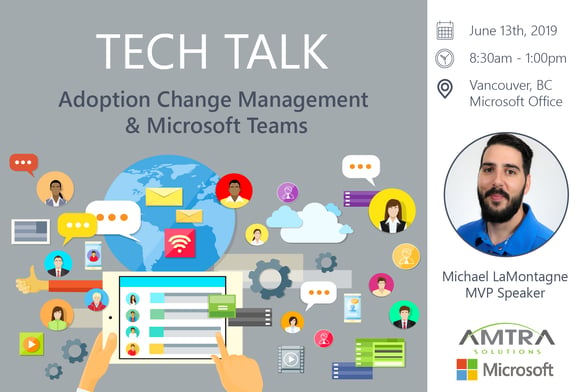 Vancouver, BC | June 13, 2019 | 8:30am - 1:00pm
Microsoft Office : 1111 W Georgia Street, Suite 1100 Vancouver, BC V6E 4M3
---
Tech Talk |
Adoption Change Management & Microsoft Teams
Through this workshop, learn how productivity and collaboration can increase when utilizing Microsoft tools properly. Join our MVP expert as he discusses Microsoft Teams, what it is and how understanding the functionality of meetings and voice can help organizations connect, collaborate, and share work. Discover the benefits of moving your organization to Teams and learn about the adoption change management process, including Skype for business migration. The session will also include the extensibility of business processes, line of business apps, and Bots.
Our AMTRA team will then take you through how implementing Adoption Change Management can help your organization navigate technology changes introduced with Microsoft 365; guiding teams to acquire the skills, knowledge, and behaviours essential within a modern digital workplace. This Tech Talk will introduce how utilizing and charting the course for a change management journey can prepare for technological changes or advancements and create engagement and collaboration. Building competence, confidence, and commitment toward Microsoft 365 business value, AMTRA's Adoption Change Management approach will help streamline productivity between people and technology.
Key Outcomes:
Microsoft Teams – What is it?
Utilizing Microsoft Teams features
Understanding the benefits of an ACM framework
Guiding teams through a modern digital workplace
Increasing productivity with Microsoft tools
AGENDA:
08:30 – 08:45
Registration

08:45 – 12:30

*Breaks and Lunch Included

Microsoft Teams - What is it?

Meetings & Voice

Moving to Teams

Extensibility

12:30

– 01:00

AMTRA's Adoption Change Management
SPEAKER: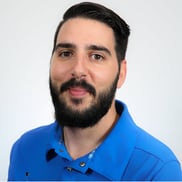 Michael LaMontagne
Michael LaMontagne is a Microsoft Solutions Advisor, Partner Evangelist and a 5 time awarded Microsoft MVP for Office Apps and Services. Michael runs the Calgary Unified Communications (UC) Users Group (https://www.meetup.com/Calgary-UC-Users-Group/) and is a member of the O365Eh! Podcast (http://o365eh.com).
Michael's focus is bridging Professional Services, Product and Innovation while working closely with Microsoft's Product Groups via Technology Adoption Programs (TAP), MVP, DnA and Elite Programs. In his spare time, Michael dabbles in development around Azure Services, Bots, IoT, Graph, Microsoft Flow, PowerShell and is a father of three children under six.
@realtimeuc | #MicrosoftTeams | #MSTeamsDev