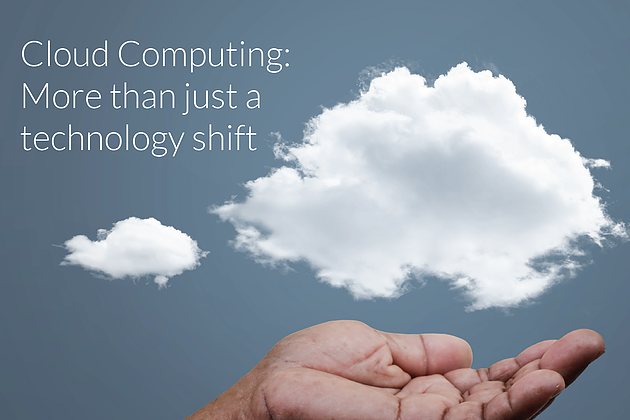 Cloud Computing:
Its More Than Just A Technology Shift
Cloud computing delivers significant benefits in terms of a more simplified and flexible IT environment, right sizing of IT requirements, and pay per use consumption model.
These benefits are applicable to all size organizations. The benefits of Cloud can be summarized as follows:
Transition from upfront capital investments into predictable IT consumption expenses.

Addition and reduction of extra IT resources based on internal demand.

Lower cost of delivery of IT services.

Reduced lead time for changes and more flexible working patterns.
Main models for architecting cloud computing
There are multiple acronyms that categorize how cloud computing platforms are designed and delivered. Each type is associated with different levels of control and different levels of end user gains. Here's a summary of each of the models.
Infrastructure as a Service (IaaS) is a service that provides access to IT and computing resources on a demand based model. These include server computing, virtual computers, hardware computers, networking and data storage. This form provides maximum flexibility in managing resources, while maintaining the traditional form of IT administration and audits.
Platforms as a service (PaaS) eliminates the need for IT organizations to directly manage their underlying technology platforms (hardware and operating systems). With this service, IT managers are less involved in resource procurement, capacity planning, systems maintenance and upgrades.
Software as a Service (SaaS) provides end users with a ready to use business application experience, eliminating their involvement in setting up the technology platform, hardware infrastructure, and application hosting configuration.
How Cloud Platforms are Built
The way in which a cloud platform is set up is also very important for end users. There are three different ways in which cloud platforms can be built:
Public Cloud. Public cloud is hosted and managed by a third party service provider, making it simple and efficient to use. Service usage can be regulated to reduce costs, and maintenance costs are eliminated.
Private Cloud. Private cloud is used to provide customized services and technology to specific customers. It is known for its secure environment and can be deployed either in-house or within a service provider's data center.
Hybrid Cloud. A combination of private and public cloud is known as the Hybrid Cloud. This type of Cloud provides scalability, security and improve connectivity.
Gaining an understanding of cloud options is important for IT managers and business decision makers. Visit us at amtrasolutions.com for more information on the Cloud solution that's best for your Company.