Microsoft Power Platform delivers innovative business solutions across a seamlessly integrated platform. Power BI, Power Apps, Power Automate and Power Virtual Agents allow any business to analyze and visualize real-time business performance, quickly and easily build custom apps, automate workflows and integrate AI capabilities.

PowerApps | Build apps in hours that easily connect to data, use Excel-like expressions to add logic and run on the web, iOs and Android.

Power Automate | Include powerful workflow automation directly in your apps with a no-code approach that connects to hundreds of popular
apps and services.

Power BI | Unify data from many sources to create interactive, immersive dashboards and reports that provide actionable insights and
drive business results.

Power Virtual Agents | Easily build chatbots to engage conversationally with customers and employees - no coding required.
AMTRA will help you light up your application innovation platform.

We will work with you to create a scalable platform that strikes a balance between organic innovation and controlled governance. This involves a collection of best practices, templates, and decision flows to quickly implement a governance model.

We will apply easy to manage security that empowers users without putting your organization at risk and create a management framework for accessible and secure data sources. We will also implement an application lifecycle management process that supports existing and new applications.

Our customized models will help you manage all types of applications, from personal productivity to full-scale enterprise applications. And we will teach you how to enable, foster, and continue to grow a culture of innovation within your organization (Adoption Change Management).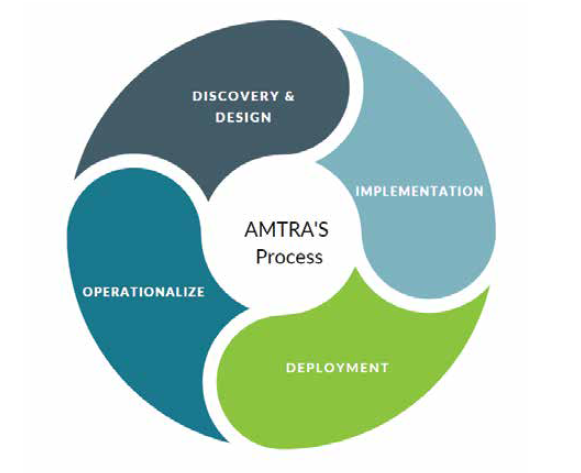 Architecture
Addresses the basic constructs and concepts of PowerApps, Power Automate and Microsoft Dataverse.
Security
Defines best practices for security consideration.
Leverages your existing user and group management solutions to manage access and security roles in Power Apps.
Alert & Action
Define the governance model between citizen developers and managed IT services.
Define the governance model between central IT and the business unit admins.
Outline how to approach support for non-default environments.
Monitor
Capture compliance and auditing data.

Measure adoption and usage within your organization.
Interested in learning how Microsoft Teams and Power Platform work better together, then read our blog on Are you Working Efficiently?

Want to see how you can maximize the full capabilities of Teams and Power Platform, then check out our Infographic.


Subscribe to our Monthly Newsletter