Every July, thousands of partners from around the globe flock to Vegas to learn about Microsoft's vision and focus for the upcoming year. The event takes place annually and is 'the' place to network and build connections, share insights and best practices, experience latest product innovations, and learn new skills and techniques.

This year, participants totaled over 17,000, making it the biggest Microsoft Inspire to date. AMTRA sent a team down to take part in the action, and hear first-hand what to expect this year. And let's just say we're Inspired! Here's a summary of the biggest take-aways from our team's perspective.
Q1. What inspired you the most about MS Inspire 2019?
Tasso | The most inspiring thing for me was the confirmation that AMTRA's 2020 plan is aligned with Microsoft's strategy. Our technology vision was solidified and I'm excited to bring our latest innovations to market.
Scott | I'm inspired by the global connections made, learning about the Microsoft story and its solutions, and when managed correctly the impact they will have on our clients' businesses today and in the future. I loved meeting the Microsoft visionaries, sharing ideas with like-minded leaders and learning best practices.
Steph | Seeing first-hand the direction that Microsoft is taking to stay innovative and at the forefront of technology was really cool. It was great to see that everything we're doing with Modern Workplace aligns with the technology investments Microsoft is making, and I'm excited to bring these to our customers.
Michael | This was my first Microsoft Inspire conference, and it was invaluable to see the Partner perspective and business side of the equation. As a Microsoft Teams expert, I was inspired to see Microsoft's global alignment on the Teams journey and have affirmation that retooling my own skill sets towards user adoption is the right thing to do.
2. What was your biggest take away from MS Inspire 2019?
Tasso | Teams, Teams, Teams! It was exciting to see that Microsoft has made Teams a key focus and I can't wait to show our customers the impact Teams can have on their business.
Scott | Biggest take away was seeing how others have built their business, scaled it, and grown it to meet an ever-changing demand for an improved user experience.
Steph | My biggest take away was seeing Microsoft's investment in Teams and how it aligns with AMTRA's vision. I have confidence in its potential and the benefit it delivers to our customers. The potential that extensibilty brings to the platform and the integration of flow are great examples of how all the other Microsoft technologies tie together.
Michael | Digital transformation. It was great to hear Microsoft talk about not only doing adoption for adoption's sake, but truly rethinking how businesses can leverage technology to achieve business transformation.
3. What to get excited about for FY20!
Tasso | I am excited about AMTRA being "All things TEAMS," and the opportunities it will bring to AMTRA and our customers.
Scott | Excited about FY20 because our go to market strategy is well positioned with where Microsoft is headed. This will really allow AMTRA to be even more closely aligned with our clients.
Steph | As AMTRA's goal is to double in size every year for the next couple years, I see FY20 as a huge year. The investments we've made in our people, processes and technology align with Microsoft's strategy and I feel that with our joint priorities and big bets, we are set for success.
Michael | As a Microsoft Gold & FastTrack partner, the upcoming changes to the Digital Partner of Record (DPOR) program to evolve to Claims Partner of Record (CPOR) program is a game changer. No longer will partners have to battle traditional Microsoft licensing resellers to register who is truly unlocking the potential of licensed services for a business. Rather, adoption metrics for specific Microsoft workloads with projects documentation as evidence will be used.
4. What is the best/worst thing about July in Las Vegas?
Tasso | The worst and best thing about Vegas in July is the heat!
Scott | The heat.
Steph | The worst thing about Vegas in July is you don't know how to dress, its 45 degrees C outside and subzero inside. The nice thing about Vegas in July is that we don't get heat like that here in Vancouver (or Calgary) so it's nice to lay by a pool and get an actual tan. Plus, the concerts and shows are amazing.
Michael | I underestimated the extreme heat. I flew into Vegas and had to quickly drop my stuff off at the hotel before making my way to the conference. Uber must have some built in humor in its location service. I was staying at the Westin, but the app set my drop-off at Ballys (about a block away). I almost died of heat in my suit jacket waiting for the crosswalk lights to turn.
Best thing about July would have to be Microsoft Inspire and I look forward to attending in 2020!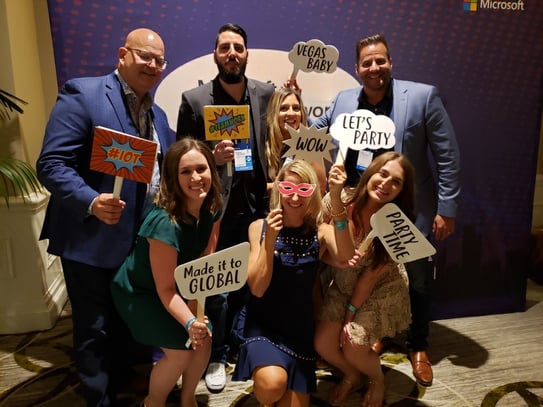 About our Contributors
Tasso Chondronikolis is the President and CEO of AMTRA Solutions. A leader, motivator and strategist, he's focused on bringing innovative, integrated solutions to customers.
Scott McCrady is our Director of Customer Success. He thrives on building valued relationships, has a passion for teamwork and understands the true meaning of success (he's a past Gold Medalist on Team Canada's Junior Team).
Stephanie Smith is Director of Strategic Alliances, responsible for all things related to AMTRA's Microsoft Partnership. She's skilled in Microsoft technologies and takes an insight-selling approach with her customers.
Michael LaMontagne lends his skills to AMTRA as a Microsoft Solutions Advisor. He's an experienced Microsoft Teams Practice Lead, Partner Evangelist and 6-time awarded MVP for Office Apps and Services.
For more information on AMTRA visit amtrasolutions.com.