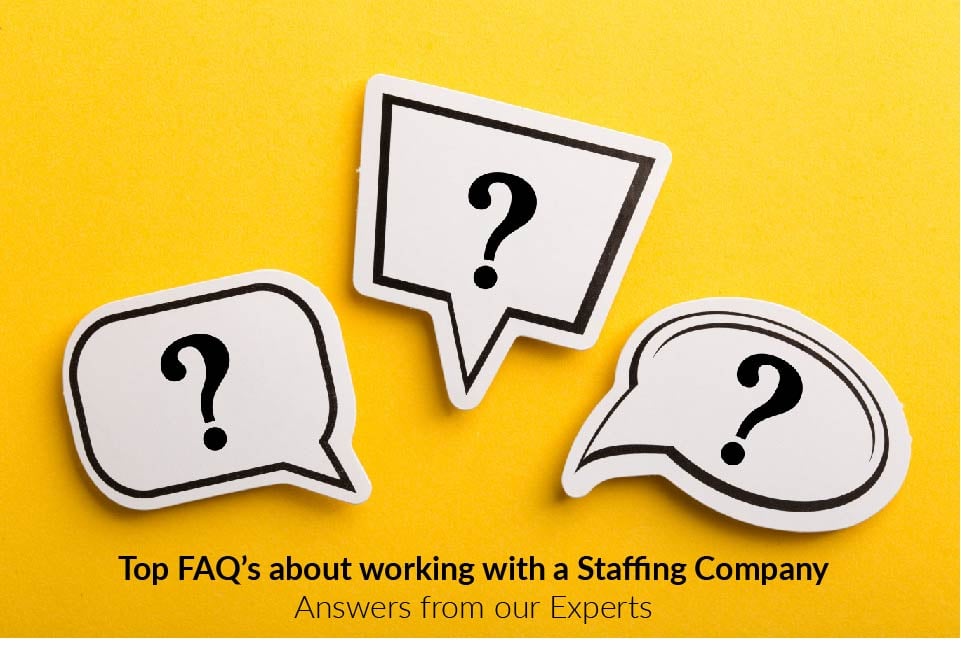 Are you a job seeker looking for a new job? Don't have time to research who is hiring? Need help writing a resume that gets you noticed?

Or, are you a Company that doesn't have the time to post, interview and screen candidates?

Then you may want to consider working with a staffing company. To help, we asked our recruiters the most frequently asked questions they get from their clients. Here's what they had to say.
1. Question | I've never used a staffing agency. How does it work?
We work to understand your career goals and aspirations, so we can help you find the job that is the right fit for you. We work with top companies, and we're always looking for in-demand job candidates to help staff our clients' temporary and full-time positions. Plus, we'll help you in other ways, such as improving your resume, prepping you for interviews and sharing hiring trends.

If you're a Company that doesn't have time to post jobs, recruit, interview and screen, then a staffing company is your answer. When you hire through a staffing company like AMTRA, we'll do all the leg work so you can focus on the more important parts of on-boarding such as orientations and training. Plus, we have a database of passive candidates who are ready to make a move when that perfect job presents itself.

2. Question | Do I have to pay for this service?
Nope. We never charge job seekers for our services. Whether you're looking for your next contract, looking for a new permanent employer, curious about a company or just looking for resume tips, we are here to help.

For Companies, our fees are contingency based. We will only invoice you once you decide to hire one of our exceptional candidates. There is no fee involved when reviewing resumes or interviewing our direct hire candidates.
3. Question | What are the benefits of working with AMTRA Solutions
Working with a staffing company can make your job search easier … or if you're a Company, help you find the best possible fit for your roles. Our recruiters do all the heavy lifting so you don't have to.

For job seekers, we'll help you find a job, contact hiring managers, and even offer tips to put your best foot forward. We'll give you access to the hidden job market, or those opportunities that aren't advertised. We'll give you a great recommendation and go to bat for you.

For Companies, we'll take care of the search, the interviewing and do all your screening. We will follow-up frequently with you and the client and take care of all the communications before, during and after the hire.
4. Question | Why do staffing companies have so many candidates?
At AMTRA, our recruiters have a strong reputation in Alberta and BC, which means we get the best resumes first and job seekers come to us by referral. We are constantly networking, talking to job seekers, and marketing ourselves through many public mediums, which helps draw in a large number of contacts.
5. Question | What types of jobs do you fill?
We help fill all sorts of jobs, including temporary, temp-to-hire and direct placements. Temporary placements are those assignments with a set start and end date. Our temp-to-hire jobs start as temporary, and are great to help an employer determine a worker's long-term fit. Our direct hires are permanent positions, where we act as the sole recruiter.

We hire across all verticals and specialize in information technology roles such as project management, database administrators, consultants, help desk, security, software development, business intelligence .... and the list goes on. Check out our current postings here.

6. Question | How long will it take to find a job … or that ideal candidate for a Company role?
We're committed to finding you a job, or finding that right person as quickly as possible.

How? For job seekers, we have our pulse on the Companies and industries who are hiring, and are continually networking to find you the ultimate job, in the shortest time possible.
For employers, we have a large network of highly skilled, experienced professionals, many who are ready to start working today. We'll help you find the right candidates who fit your company, enjoy what they do, and can hit the ground running.

7. What happens if the employee placed is not a good fit?
We offer a guarantee period, which is an opportunity to assure new hires are the right fit. We help you set realistic goals for what the new hire should have learned, achieved and mastered within a certain period of time.

If they aren't hitting the mark, it's time to trade. It might take a few tries to get the right match, but you've done very little of the work to accomplish that feat: and, as a bonus, we'll have learned a lot more about your company.

Still need help?
If you're still unsure about outsourcing your recruitment, check out our previous blog on 7 good reasons Why you should hire an IT Staffing Company.


At AMTRA, we're all about providing an excellent customer experience to our job seekers and our corporate clients. To get in touch with our team, please send us an email.