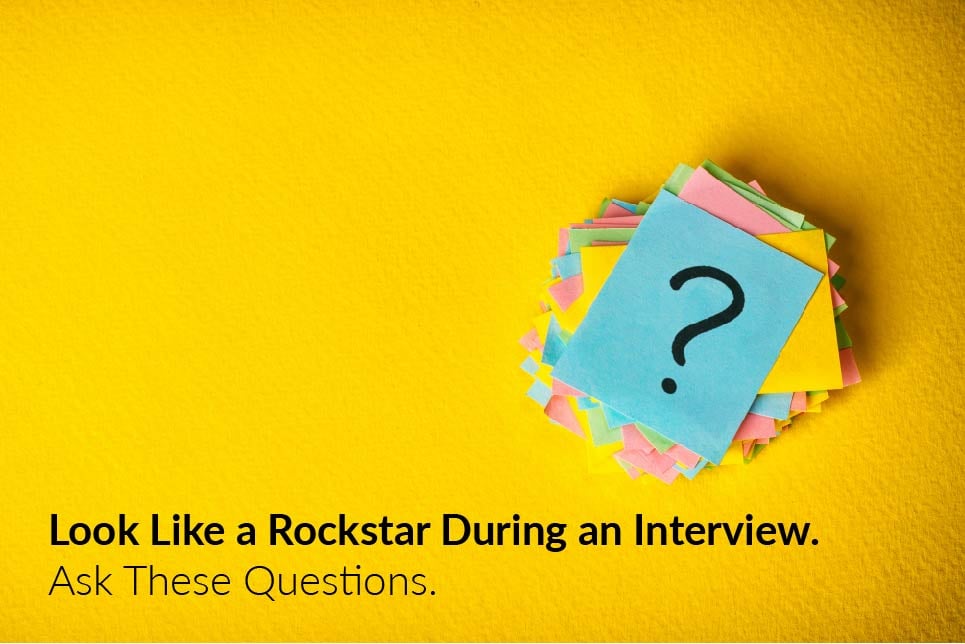 So, do you have any questions for me?

Sound familiar? Almost every interview these days ends with this question, and your answer should always be, 'Yes.'
By the time you've reached the on-site interview, you've demonstrated your strengths and shown your alignment with the Company's needs. Now, it's your turn to see if the company's strengths match your needs. To make sure you're making the right career move, consider the team, growth opportunity, and company mission. The 'do you have any questions for me' part of the interview is a great chance to do this.
Here are 7 questions to consider asking, that will help knock their socks off. They'll shed light on the Company ... and show you're thoughtful in your decision making and curious about the Company.
1. What are the hardest parts of the job?
This question will help you gain insights around whether there are roadblocks you'll be signing up for. While not necessarily a bad thing, you don't want to be blindsided once you've accepted the position. If these challenges are pointed out early, you'll have the opportunity to ask the team lead how they intend to help clear these barriers.

2. How does this role contribute to business goals?
Regardless of what job you're interviewing for, you'll want to understand how your performance will be measured.
What metrics will I be measured on?
How often will I be measured?
What KPI's am I responsible for?
Will my metrics shift, based on Company benchmarks?
Who else will contribute to my metrics?
The answers will shed light on how strategic the role is to the company and how your work will be assessed.

3. How often are reviews conducted?
Although reviews can be stressful, it's important to document performance. Regular performance reviews give you the opportunity to calibrate on your own progress and provide feedback.A best practice is to conduct reviews twice a year, plus have a 360 review process built-in.
4. How does the company invest in the team?
If you're investing your time in this Company, you want to feel like they're doing the same. Ask about a budget for online courses and conferences. See if they offer in-house training or webinars you can regularly partake in. Ultimately, you want to see if they're prepared to help you grow in the areas you'd like to develop.
5. What does success look like over the next 6 months?
How thoughtful is the company being about this role? Is there a clear vision for how they will contribute, or is it a roll-at-your-own-pace kinda deal? Are there examples of individuals achieving success in this role? This question will give you background into the role's potential and tell you exactly what you need to do to impress folks.
6. Why did you choose to work here?
Designed to be open ended, the goal of this question is to get them to be frank about how they've assessed the opportunity to work at this company. For example, were they focused on the opportunity to grow in an exciting role? Was it a manager's impressive experience? Were they attracted to the culture? Do they feel personally invested in the company's mission?
7. Are teams encouraged to work cross functionally?
Without the right processes in place, it's easy for people to get caught up in their own team's goals and forget about the larger Company goals. Ask for specific examples where multiple teams have worked together to achieve larger goals, and how they were rewarded for this.

These questions are just a start to what you can ask during an interview. Now, take a step back and see what questions might be important to you?

Not quite at the interview stage? Check out our blog on How to Build a Resume that will get you Noticed.
Need help preparing for your next job interview? Send us a note jobs@amtrasolutions.com.