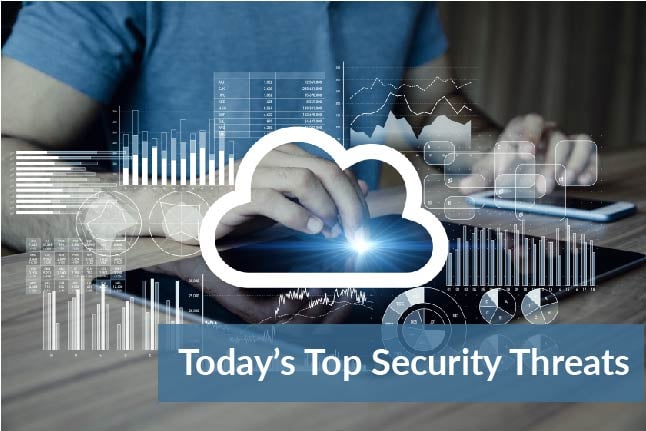 Cybersecurity issues are becoming a daily struggle for businesses. Recent trends and cybersecurity statistics reveal a huge increase in hacked and breached data from sources that are increasingly common in the workplace, like mobile and IoT devices.

On average, a person picks up their phone 58 times a day, or 3 hours and 15 minutes. Within the last 24 hours, how many times have you checked your email from your phone, opened a work attachment, checked LinkedIn or shared file? While we do this every day without pause, its important to realize that everything we do online puts us at risk of a cyber-attack or being hacked.
The Facts
Here's what you need to know. Firstly, the threat landscape is expanding, and the likelihood of a cyber attack is high. Major data breaches are costing companies significant amounts of money, and cannot be ignored. Take a look at the data.
Hackers attack every 39 seconds, on average 2,244 times a day.

(University of Maryland)

The average cost of a ransomware attack on businesses is $133,000.

(SafeAtLast)

43% of breach victims are small businesses. (

Verizon

)
More than half of businesses are not prepared to combat cyberattacks.

(FireEye)

50% of the CEOs believe their company is not in a position to handle spond to a hacking incident or data breach.

(FireEye)
What does it all cost?
Average expenditures on cybercrime are increasing dramatically, and costs associated with these crimes can leave companies bankrupt. Not to mention the damaged reputation, financial losses, theft and even fines. Essentially, the costs can be crippling.

According to Gartner, security services are soon expected to account for 50% of cybersecurity budgets. Accenture reports the average cost of a malware attack on a company to be $2.6 million. And IBM notes that $3.9 million is the average cost of a data breach.
How to Stay Safe
Companies must put strategic efforts towards increasing efficiency and decreasing response times to security incidences. So what can you do to defend against security attacks? Here's what we think you should prioritize.
Cloud Configuration Reviews – Often, damaging data breaches stem from a simple cloud misconfiguration, which can easily be prevented with routine technical assessments. Make sure technical configuration reviews of cloud platforms (Office 365, Azure) are a priority.
Strong Authentication – Roll out strong two-factor authentication, in order to protect against widespread password theft.
Deploy Advanced Anti-virus/Anti-malware solutions – These solutions will provide end-point detection and response, and keep your systems secure.
Robust Mobile Policy - Make sure that any device that leaves the office has a full suite of security services, including a local firewall, advanced malware protection, DNS filtering, disk encryption and multi-factor authentication.
The Bottom Line
There's no question that the situation with cybercrime is dire. Luckily, by assessing your business's cybersecurity risk, making company-wide changes and improving overall security behavior, it's possible to protect your business from most data breaches.
We want you to be free from data breaches. Contact us to assess your security risk and to help you put a security plan in place.

Download our Infographic to see the Top Security threats you should be worried about.