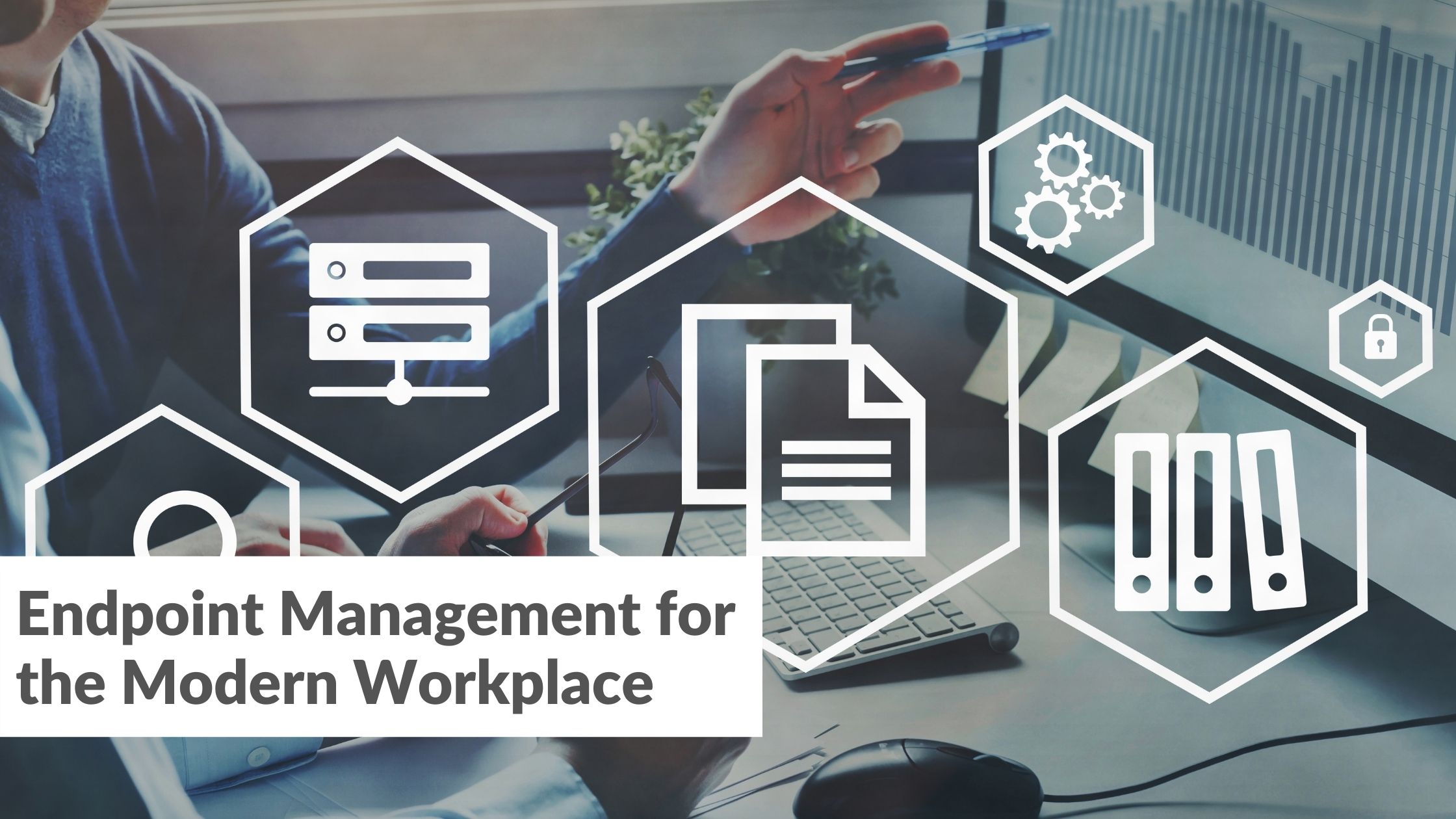 The mobile workforce, cloud adoption strategies and the demand for more consumer-like services continues to drive the need for new ways of managing corporate devices and boosting flexibility without compromising security.
This is where Endpoint Management becomes important. Endpoint Management can be defined as a set of tools and techniques that simplify the management of physical and virtual endpoints.
The goal of any endpoint management approach is to:
Deliver a consistent employee experience across increasingly diverse device types.
Improve security, while enabling mobility and flexibility.
Accommodate for the many workstyles and apps that make up today's digital workplace.
Expectations from empowered employees have increased pressure on IT to:
Improve the experience and consistency across diverse platforms.
Make it easier to install applications and access business data.
Replicate an 'out of the box' consumer experience where users can do their own provisioning.
These expectations, as well as the need to combine support functions and decrease costs, has forced organizations to rethink the management of endpoint devices.
A New Way of Working
From easier provisioning and simpler updates, modern endpoint management includes a range of features that can be leveraged on a standalone or integrated basis for diverse users. By adopting this approach, organizations can take advantage of innovations that deliver consumer-like experiences, consolidate support functions and increase security.

A Consumer-Like Experience
The cornerstone of a modern approach to managing endpoint devices is simple, low-cost self-provisioning. User identities and applications are stored within a secure cloud repository. Users can set up new devices for themselves anywhere, including their homes.
In addition, IT teams can apply company policies to user's personal devices in a simple way. To get the most out of a modern endpoint management approach and enable the best benefits, organizations should identify the most appropriate candidates based on their workstyles and the devices they're using.
Consolidating IT Support
Part of the shift towards a modern workplace is considering how procuring devices using a device as a service mechanism can reduce support and device costs. Using lifecycle management processes, users can order, self-provision, self-serve, self-support and return endpoint devices while receiving an enhanced user experience.
Security
Providing greater user freedom while minimizing security risks is a fundamental component to modern cloud-based approaches. With conditional access policies, an administrator can define restrictions based on conditions such as risk, location and device platform to enhance policy decisions. Organizations can establish specific access policies based on a users' profile. Modern tools allow IT administrators to classify and protect documents, manually or automatically using different parameters.

Modern Device Management
With MDM, lost personal devices can be equipped with self-wiping software. An employee's lost device can be cleaned of all company data remotely. Increased automation capabilities and technology updates reduce the risks associated with security vulnerabilities. Now that applications and data are available in the cloud, IT leaders can deliver updates faster, and hardware and software can be updated automatically or by the user at a time when it's most convenient to them.
So, what's next?
By preparing to modernize endpoint management now, organizations can equip their IT teams with the tools and services they need to advance the digital workplace. The latest tools can improve the user experience, satisfy user demand for greater personalization of their IT experience, boost security, increase IT efficiency and reduce costs.

We'd love to talk to you about your journey to a modern desktop? Sign up for our Endpoint Management Workshop, or give us a call.