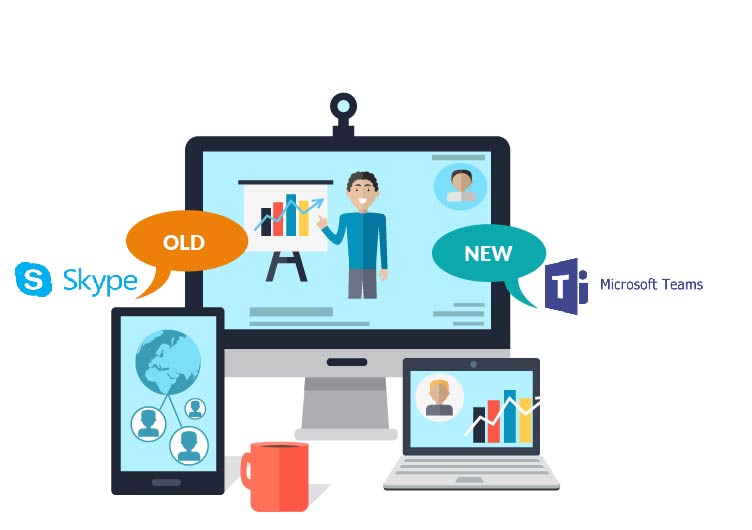 Microsoft recently announced that Skype for Business Online will be retiring on July 31, 2021. We've been preparing for this and are ready to support you however we can as we work together to help you make this transition.
Here's what you need to know
After July 31, 2021 all access to and support for Skype for Business Online will end.
Consumer Skype & Skype for Business Servers are unaffected.
Organizations with hybrid server and online Skype for Business configurations will need to transition online users to Microsoft Teams to maintain cloud-based access and functionality.
Beginning Sept 1, 2019, all new customers will be on-boarded to Microsoft Teams, with no access to Skype for Business Online.
There is no need to panic, as you do have 24 months to plan your move to Microsoft Teams. However, we do recommend you start planning today. This will give you time to manage your business change, obtain buy-in and drive successful end-user adoption.
Why make the move to Microsoft Teams now?

A move to Microsoft Teams represents a transformation in how users communicate and collaborate. It's a new way of working that is aligned to the modern ways in which people naturally interact with one another, and is the hub for collaboration that keeps your team's chats, meetings, files, and apps together in one place.

Check out our summary of what Microsoft Teams can do for you.


Want to learn more?

Listen to what the Oh365Eh! team has to say about the transition from Skype for Business to Teams https://o365eh.com/2019/08/20/episode-43-retirement-of-skype-for-business-online/.
Get started today
Don't wait until 2021. The team at AMTRA (a Microsoft 2019 Finalist for Modern Workplace Innovation Partner of the Year) has the skills to help your business transition to Microsoft Teams. Give us a call 1.855.326.0533 and start empowering your users now by providing them with world class Intelligent Communications sooner, rather than later.