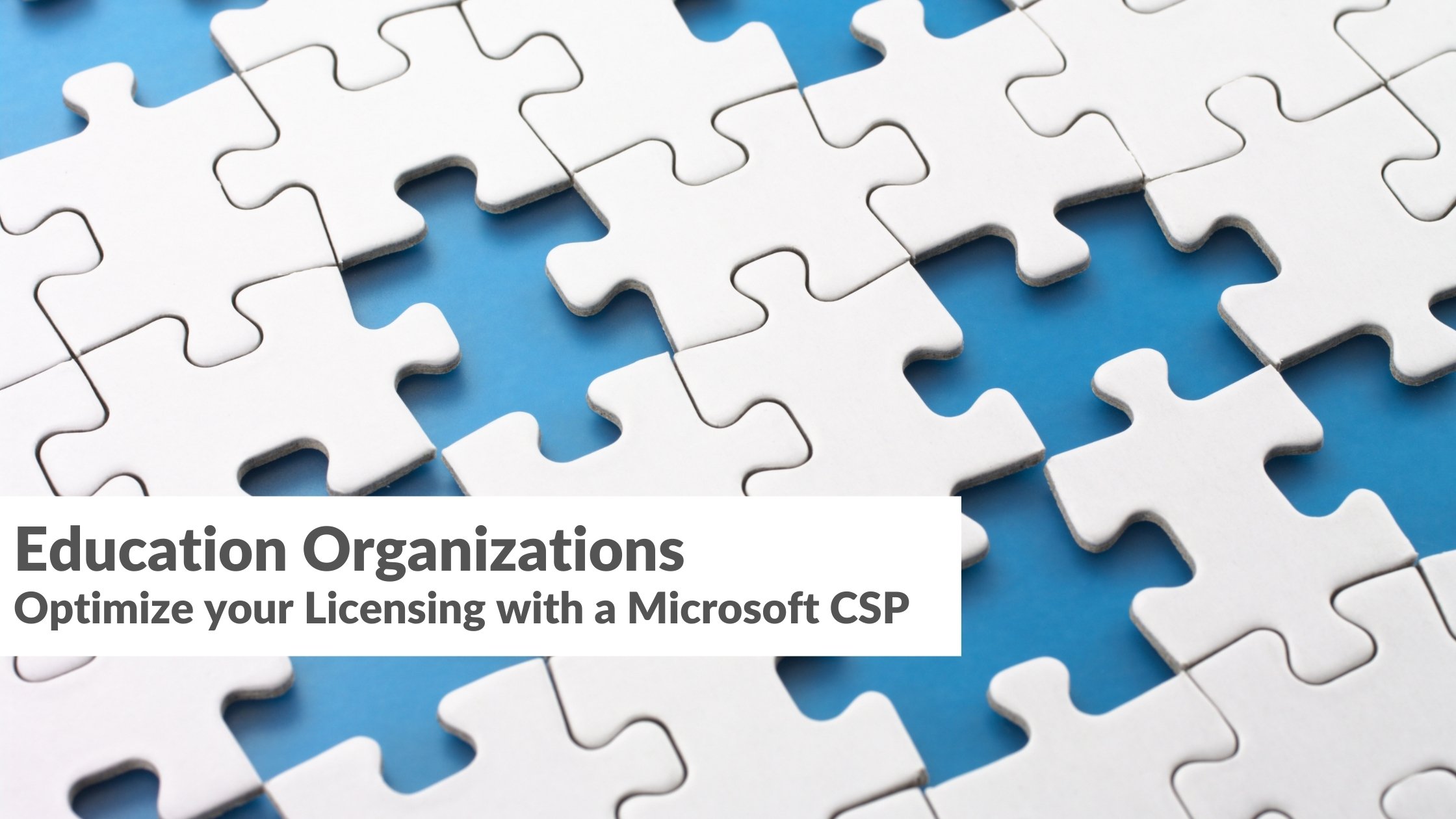 When it comes to getting your software licensing right, the road ahead can be filled with challenges. It can be difficult to know if you've taken the most efficient route and are using the most recent maps. And sometimes stopping for directions or paying for a guide are not fool-proof ways to get where you want to go.

By working with a Microsoft Cloud Solution Provider (CSP), educational institutes can be assured they're on the right path and that their navigation system is always up to date. You'll get everything you need to expand your education practice and make a difference in the classroom. Here are a few things that a CSP can deliver:
1. Strong Understanding of your Microsoft Licensing Plan
A Microsoft Cloud Solution Provider will explain the features, benefits, and differences of a subscription plan and billing cycles.
They'll also provide direct access to Microsoft, allowing for an escalation of your support concerns without the need for a go-between to relay the issue. They will provide you with a deeper understanding of how your subscriptions relate to your schools' technology needs. Plus, they have the demonstrated technical expertise to design, develop, implement, and support your Microsoft software investments.
2. Real Business Impact
When was the last time your CSP partner performed a business review of your current subscription and provided you with advice on how to optimize your consumption to save on costs?
Have you had discussions around the changes in your benefits with your current plan and how you can best use it to your advantage?
A Microsoft CSP will help you to identify which subscriptions work best for your current business requirements and help reduce your IT spend and streamline your IT operations.
3. Improves your Security and Compliance Posture
Have you thought about how you're going to secure your disparate devices? Do you have a security plan in place? What are you doing to ensure all devices are compliant?

If these are all things you know you should address, but have little time to consider, then you're in luck. A Microsoft Cloud Solution Provider will discuss the security features and capabilities included in your Microsoft 365 license plan and how you can use them to your advantage.

They'll explain how you can take advantage of the broad set of Microsoft 365 suites and capabilities better by increasing your security, ensuring your business compliance, and optimizing your CSP spend across all 3 Microsoft platforms (Dynamics 365, Microsoft 365 and Azure).

4. Modern Classroom Management
Intune for Education, available in all Microsoft 365 Education plans, offers a simple way to deploy and manage classroom devices. Its zero-touch management feature changes apps and settings applied by default to each enrolled device through the cloud, making updates a breeze. And because it easily scales to the environment, it lightens the load for schools' IT teams.

Intune and School Data Sync make it simple to quickly import school, student, and teacher information, automatically create classes, and keep student data up to date.
And there are more benefits to uncover. With Intune, it takes less than an hour to set up a new user. The time saved setting up and deploying devices can be redistributed where it's needed most – the classroom.
Special Pricing for Schools
With the Microsoft Cloud Solution Provider Program (CSP), schools can directly manage their entire network of Microsoft licenses through a single portal. Schools can purchase plans such as Microsoft 365 A1, Microsoft 365 A5, Office 365 A5, and Microsoft Windows Education A3. Each plan includes a different product, ranging from Office 365 to Windows Enterprise, to Intune.

Plans can be licensed based on a school's entire knowledge worker count, which will allow schools to obtain free Office licenses for students or purchased on an individual faculty or student basis. CSP plans are great for schools who want a comprehensive, innovative solution to manage their devices.

AMTRA Is Ready with CSP
AMTRA can help pave the way for your school to be more proactive and strategic in your Microsoft portfolio. To learn more about the benefits of our CSP program, read our most recent blog or give us a call to discuss licensing options and pricing with one of our experts.