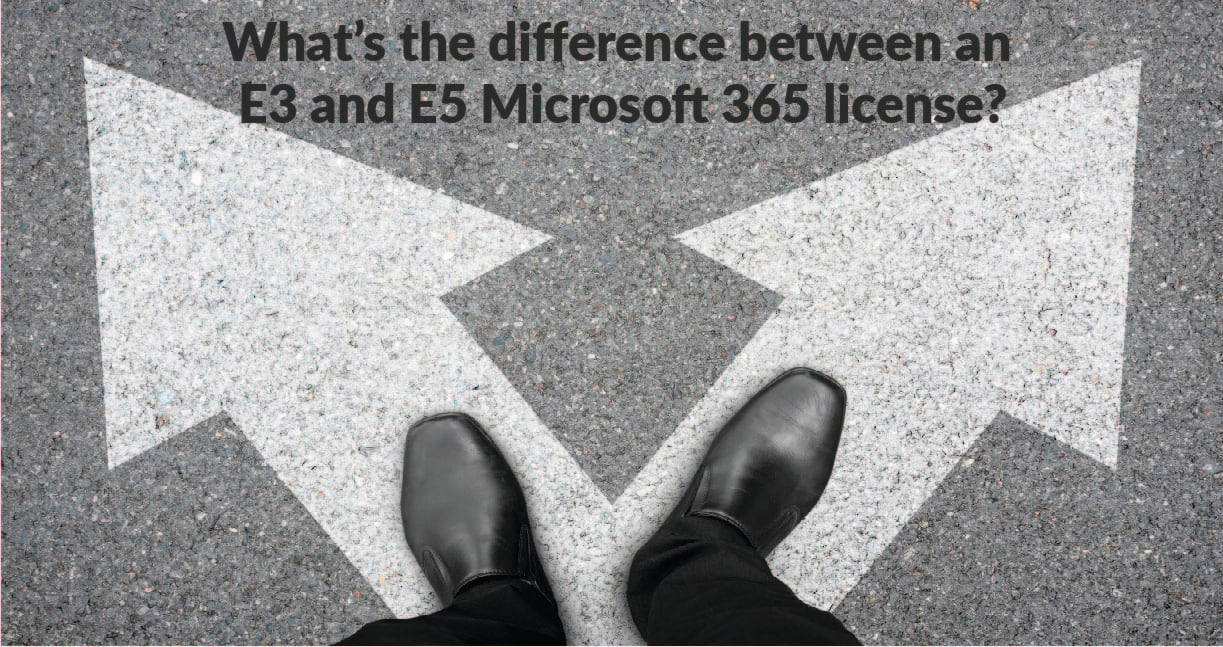 Choosing a Microsoft 365 license is a critical step before migrating to the cloud. With multiple options for small, medium and enterprise businesses, navigating the differences can get overwhelming.
On the surface, it's a question of features, and for many organizations that's extremely important. Providing your users with the right tools is critical and making the right choice requires asking how your organization is structured, what were your reasons for migrating in the first place … and what's really been holding you back.
With these questions in mind, it's far easier to make the right choice, and when you ask what the difference is between an E3 and an E5 Microsoft 365 license, you'll come upon a more meaningful answer than simply a list of bells and whistles. To help you wade through the differences, we've created a comparison to help you make the correct choice for your organization.
E3

E5

Who It's For

Growing businesses that need Insights, compliance, email, security and voice capabilities.

Digital driven businesses looking for audio conferencing, phone system, Power BI Pro, Customer lockbox and Cloud App Security.

Office Apps

Office Online

√

√

Excel Power Query and Power Pivot

√

√

Sway

√

√

InfoPath

√

√

Use Office on Remote Desktop

√

√

Unlimited OneDrive storage

√

√

Standard Services

OneDrive Storage

Unlimited

Unlimited

Exchange online mail storage

100 GB

100 GB

Exchange online archive storage

Unlimited

Unlimited

Teams

√

√

Yammer

√

√

SharePoint

√

√

Business Apps

Planner

√

√

Power Apps

√

√

Flow

√

√

Forms

√

√

To-Do

√

√

Stream

√

√

Insights by MyAnalytics

√

MyAnalytics (full)

√

Power BI

√

eDiscovery

√

O365 Privileged Access Management

√

Audio Conferencing

√

Phone System

√

Advanced Services

Cloud App Security

√

Threat Intelligence

√

Customer Lockbox

√

Office Advanced Threat Protection

√

Active Directory Integration

√

√

Azure Rights Management

√

√

Mobile Device Management for O365

√

√

Licensed for hybrid deployment

√

√

Advanced Compliance

√

Advanced Data Governance

√


The Bottom Line
Organizations with strict security requirements that have large numbers of workers dealing with secure or governed information are the perfect candidate for an E5 license. The E5 features in the security and compliance center help Security and IT teams scale the security and data retention controls of Microsoft 365 with automated tools that are enabled via dynamic controls. In addition, the robust capabilities of Advanced threat Protection and advanced eDiscovery bring a lot of value to any Microsoft 365 tenant.


With so many security features and tenant-wide controls, it's vital that security and IT teams maintain an understanding of how their own policies and features are affecting the collaboration of their users. In addition, it's important that the teams understand exactly how the policies and tools they have set up affect each other and what part each plays when it comes to data governance in Microsoft 365.


Microsoft 365 | A Proactive Approach
A proactive approach to managing Microsoft 365 exposure to secure content can save your teams tons of time. Need help migrating to the cloud and choosing the best platform for you? No problem.


AMTRA can help you make decisions about cloud migration and which Microosft 365 variety is right for you. Request a meeting with one of our cloud experts today. They'd be happy to guide you on your cloud journey.