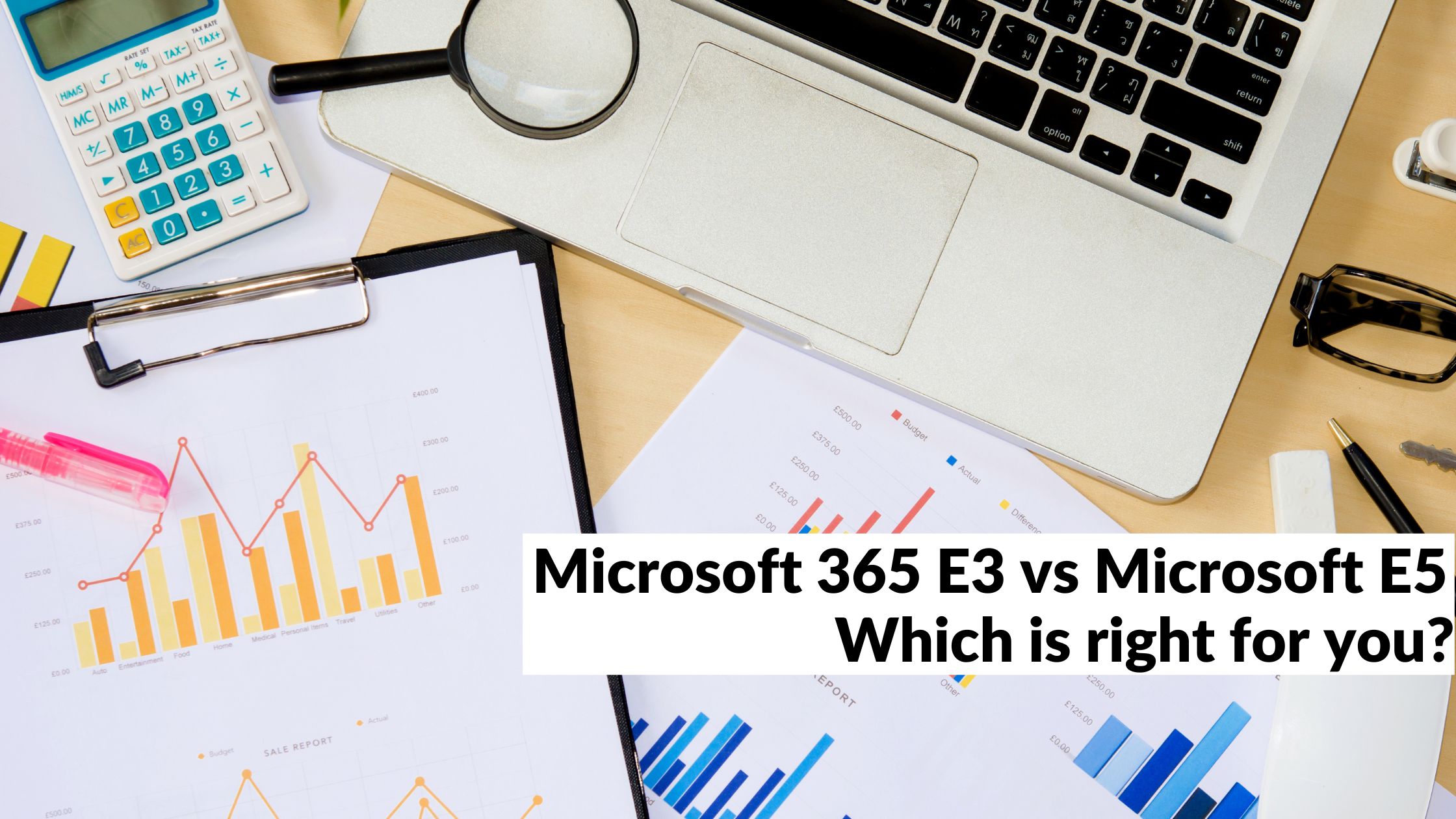 Do you know what is included in Microsoft E3 and E5? Do you know which one is right for your business? Are you familiar with the benefits of each?

We can help. To start, there is no one size fits all solution to licensing. Each version has benefits to help you work collaboratively and be more productive. To help you define which version is best for you, let's first take a look at the differences.
Firstly, Microsoft 365 E3 and E5 are Microsoft's top tier licenses for enterprise-level organizations. They're both ideal for those organizations with requirements that go beyond daily business interactions and require additional identity management and governance capabilities, including cutting edge threat detection and response powers.
Here's a high-level comparison:
Microsoft 365 E3 contains the Office productivity suite, plus core security capabilities. E3 can be topped up with security and compliance licensing add-ons to access some E5 technology without making the full jump to an E5 license.


Microsoft 365 E5 is the complete suite of productivity, advanced security, compliance, voice, and analytical capabilities. It includes the full range of Office 365 Enterprise, Windows 11 Enterprise, and Enterprise Mobility + Security technologies.
What's included in Microsoft 365 E3
Below, we've broken down the different apps and technologies that are included in each license, by function. Let's talk about Microsoft E3 first and all the goodness it includes.
| | |
| --- | --- |
| Microsoft 365 Apps | Word, Excel, PowerPoint, OneNote, Publisher, Microsoft Access (PC only), Microsoft Publisher (PC only). |
| Email and Calendar | Outlook, Exchange and Microsoft Bookings. |
| Meetings and Voice | Microsoft Teams. |
| Device and App Management | Win 11 for Enterprise, Autopilot, Universal Print, M365 Admin Centre, Intune and Endpoint Configuration Manager. |
| Social and Intranet | SharePoint and Yammer. |
| Files and Content | OneDrive, Lists, Forms, Stream and Sway. |
| Work Management | PowerApps, Power Automate, Dataverse, Planner, Power Virtual Agents, Planner and To Do. |
| Advanced Analytics | Viva Insights. |
| Identity and Access Management | Hello, Credential Guard and Direct Access and Azure AD Premium Plan 1. |
| Threat Protection | Microsoft Advanced Threat Analytics, Microsoft Defender Antivirus and Device Guard and Microsoft Defender for Endpoint Plan 1. |
| Information Protection | Data Loss Prevention for emails and files, Windows Information Protection and BitLocker and Azure Information Protection P1. |
| Security Management | Microsoft Secure Score and Microsoft Security and Compliance Center. |
| Compliance Management | Manual retention labels, content search, basic audit and organization or location-wide retention policies. Teams retention policies, core eDiscovery and litigation hold. |


What's exclusive to Microsoft 365 E5?
In addition to the above, here's a summary of what you'll get with E5.
Meetings and Voice

Phone System and Audio Conferencing.

Advanced Analytics

Power BI Pro.

Identity and Access Management

Azure AD Premium Plan 2. Access Reviews. Azure AD Identity Protection Advanced Features and Privileged Identity Management.

Threat Protection

Microsoft 365 Defender, Microsoft Defender for Endpoint Plan 2, Microsoft Defender for Office 365 and Microsoft Defender for Identity.

Information Protection

Microsoft Defender for Cloud Apps and Azure Information Protection Plan 2.

Compliance Management

Rules-based automatic retention policies, machine learning-based retention, and records management.

Advanced eDiscovery and Advanced Audit.

Insider Risk Management, communication compliance, information barriers and customer LockBox.

Privileged Access Management.

Built-in third-party connections.

Is Microsoft 365 E5 worth it?
Well, it really comes down to what you think you need. For some enterprises, an E3 license may well be 'good enough' but, as we've highlighted above, there are some significant security and compliance benefits that come with E5.
That's why it's worth going beyond the individual technologies included in E5 and consider the bigger picture.
Right now you may be using multiple point solutions to provide parts of what you would get in E5 ... but consolidating your existing solutions into a single suite of technologies can provide several additional benefits.
Here's the Scoop
Microsoft 365 E3 and E5 are designed for large, enterprise-level organizations.

Microsoft 365 E3 contains the Office productivity suite and core security solutions.

An E5 license is a complete suite, covering Office 365 Enterprise, Windows 10/11 Enterprise, and Enterprise Mobility + Security technologies.

The main benefits of E5 lie in powerful security and compliance solutions such as the Microsoft Defender suite.

Consolidating your solutions under one vendor provides additional 'big picture' benefits, saving money and increasing security response power.
Fast Track to a Successful Investment?
If you think E3 or E5 could be the solution for your organization, Microsoft has a dedicated FastTrack program designed to help you get up and running as smoothly as possible.
As a certified Microsoft 365 FastTrack Ready Partner, AMTRA has access to a wealth of resources and funding through the FastTrack service to help you deploy, onboard, and improve your Microsoft 365 solutions.
FastTrack is available to everyone with a Microsoft 365, Office 365, Azure, or Dynamics 365 subscription at no additional cost. If you've decided that a Microsoft 365 E3 or E5 license is a good fit, we can work with you to onboard it quickly and correctly, applying best practices to ensure successful adoption and effective ROI. To learn more, download our comparison guide.