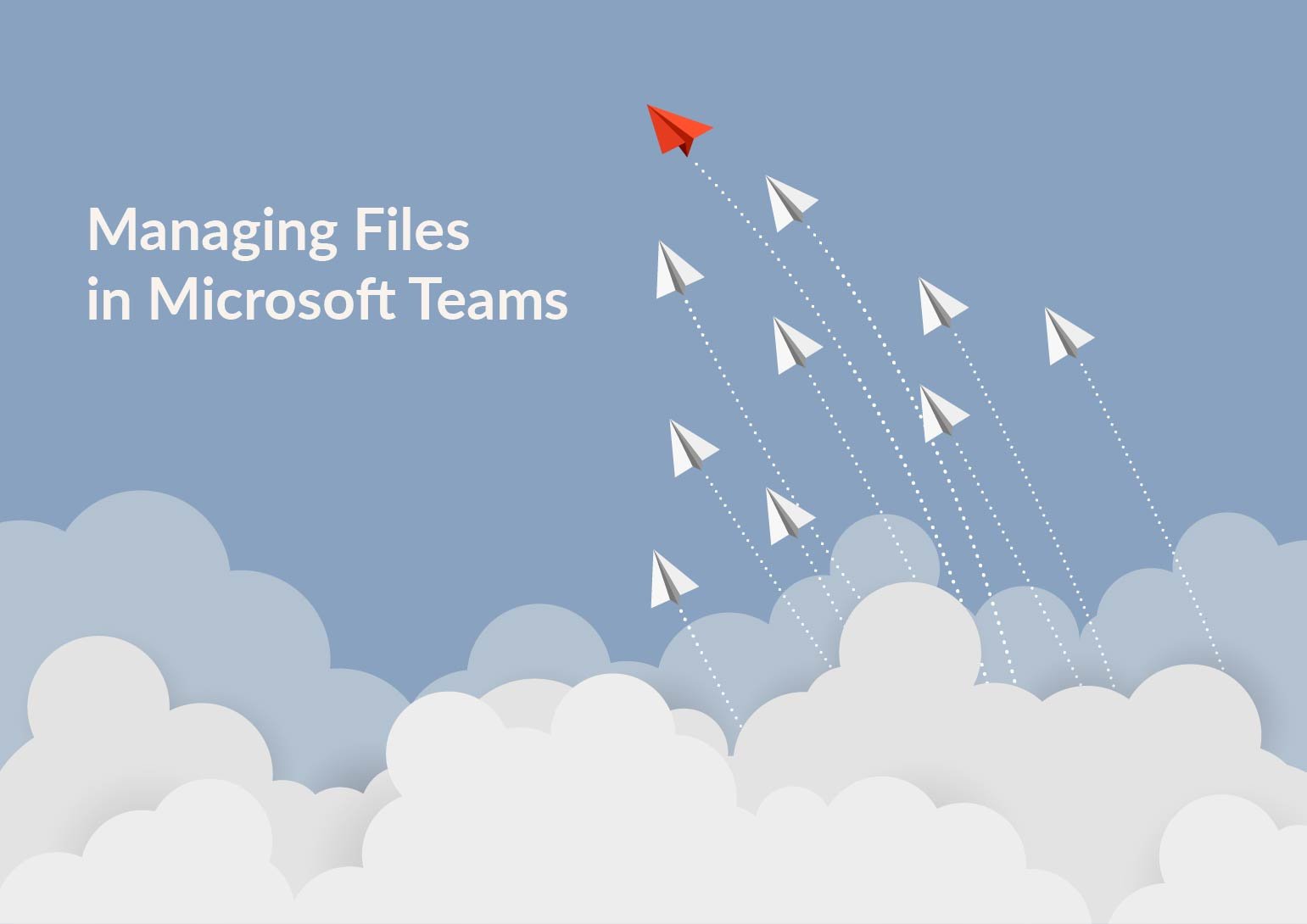 Do you have a plan in place for managing your files in Microsoft Teams?

File management can be tricky if you don't have a plan. To help, we've put together some tips on how you can keep your files under control.
Channel Names Effect the File Folder Name
Avoid typos and mistakes at all costs! Why? Because when you create a new channel in a Team, that same back-end SharePoint site automatically creates a file folder in the Documents section that will be named whatever you named that channel. That's why it's extremely important that each channel is named correctly the first time.

Decide How Things will be Stored When Collaborating
If you have a folder structure, all you have to do us go into Teams -> Files, and choose the correct folder (or create one) to upload your files to. You can then hit 'Copy Link' to easily share the file in a chat or channel conversation. This makes it easier to keep files organized and helps avoid endless loose links.

Note | We'd recommend not directly uploading files to chats, as this will cause files to appear at the bottom of the general Files tab rather than in their proper folder. Loose files can still be moved later, but it's an unnecessary extra step that can quickly lead to messy file storage.


Recognize the Backends for Chat vs. Team Conversations
Did you know that the back-ends for individual Teams and Team chats are different?

That's right. The back-end for a Team is a SharePoint site, while the back-end for a chat is a OneDrive site. But wait, that's not all. While Teams threads can be accessed by anyone in that Team, the OneDrive site used for chats is only accessible by the people in that chat.


Be Cautious of Link Permissions
Once you've uploaded a file into a Team or Teams chat, it's now a SharePoint object. This means the same sharing capabilities you get from SharePoint and OneDrive apply in Microsoft Teams. For example, if you copy a link in Teams, you get the same basic SharePoint link settings as you would in Office 365.
This is where things can get a bit tricky. Depending on the permissions set, links only meant to be accessible within a specific Team can be viewed by anyone they're sent to in your organization. So, if you're in a situation where you're constantly sharing files with people outside of the Team, you may want to consider adding them to the Team instead of enabling external access permissions. That way, you're not messing around with your security.


Manage Your Teams Files from Your Desktop
Would you prefer to use a traditional file explorer to manage your files within Teams? Not a problem!

All you have to do is go to the channel in question, click 'Files', then 'Open in SharePoint.' This will take you to the proper spot in SharePoint where you can click 'Sync.' Hitting 'Sync' allows you to sync only the content in that window. That way, you don't have to worry about syncing an entire Team's worth of content to your desktop.

Or, if you'd rather manage everything outside of Teams, you could sync an entire Team's files to your desktop. And, as a bonus, any changes made will be automatically reflected in the files via updates.

Have questions about managing your own files? We can help info@amtrasolutions.com.

Want to learn more other Teams Tips and Trick? Download our e-Book to get our best tid-bits for a better Teams experience.