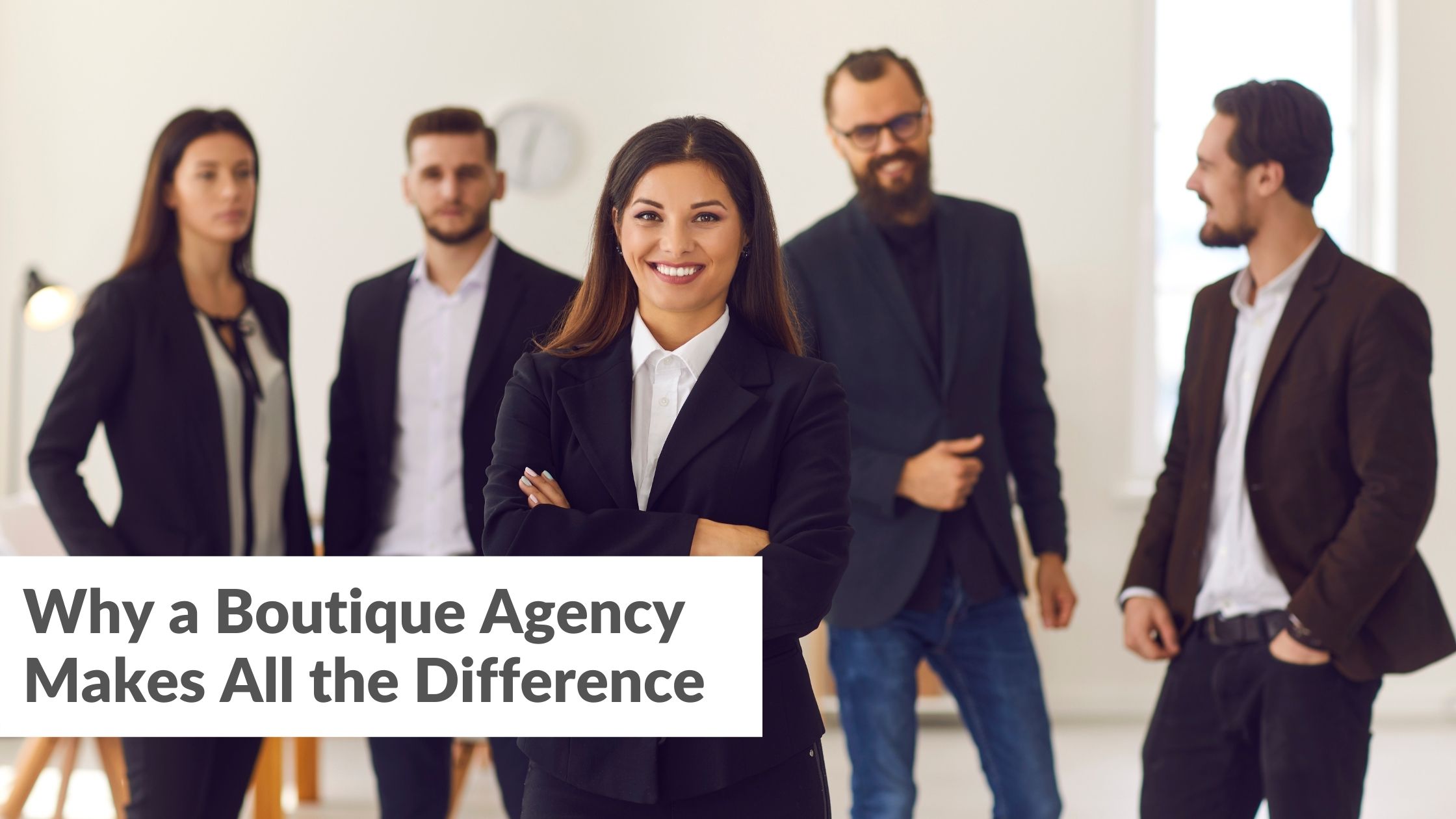 Finding the ideal candidate for your job openings isn't as simple as it once was. That is, unless you hire a boutique staffing firm to help you.

As new specialties emerge, and skill sets become more refined, it's becoming increasingly difficult for businesses to fill positions, with 47% of recruiters claiming talent shortage is their biggest threat to hiring and human resource management.
We bet, that if you're like most companies, you don't have the time … or patience to go through recruitment processes and interview hundreds of applicants who might meet your criteria.

Wouldn't you rather spend your time somewhere else than going through interviews with candidates that make you want to bang your head against the wall. That's why recruitment agencies are so beneficial.
What Differentiates Boutique Recruitment Agencies?
Many Canadian employers say they have difficulty finding qualified candidates for the positions they need to fill. This is often associated with talent shortage, but the reason why finding great talent is so challenging is that using human resource recruitment often doesn't work. Especially when the niche is specific, like tech, traditional recruiters are not the best option.
Of course, finding the perfect employee isn't easy. To thrive in this modern work world, it takes someone with a thorough understanding of everything from remote to hybrid working.
This is where boutique recruiting companies show their true value. Boutique firms apply individual methodologies to the recruitment process, tailoring it to the individual client, and role available.
Boutique agencies thrive on getting to know their clients inside and out, understanding their business, and culture, for a hiring fit that not only reflects key talents and skills, but also cultural drive.
Advantages of Choosing a Boutique Staffing Firm
There are plenty of reasons to consider going this route with your employment needs.

1. Personalized service
90% of employers believe it is critical to find candidates who are a good cultural fit. That means when you're looking for an effective fit in your candidate selection, you need a recruitment manager that looks at more than just the 'education' part of a resume. Boutique agencies combine long-term business plans for their clients, with the long-term career goals of applicants.

2. Focused on Quality, not Quantity
Many large recruitment companies care about high volume recruitment. Being more boutique means that we offer more time and attention on each and every position we work. We work on fewer positions to ensure we can put the attention and quality into every single position we work on. Larger companies often can't juggle all the positions they are working on and so they have to quickly move from one position to the next, often without being confident they have the BEST candidates selected for the position. Our small client list is hand selected and exclusive which means you don't have to make more noise to get the right recruiters attention.

3. A Streamlined Process
While more employees might seem like the best way to get jobs done faster – the truth is that larger recruitment agencies frequently suffer from panicked staff running around with no purpose. Alternatively, a boutique recruitment process gives you the benefit of a single point of contact, and a more focused collection of experts. The connection with the recruiters is closer than in larger companies, and this means more understanding of what you need.

4. Greater Access to Top Talent
Did you know it is a good practice within the recruitment agency world is to have a policy to NOT steal candidates from your own clients. This is the case with all good agencies. Where big agencies often boast a BIG client footprint, our boutique approach allows us to provide greater freedom to approach a broad range of candidates, be more customized in our approach and nimble in our response. Our firm boasts an extraordinary recruitment team with an average tenure of 15 years in the industry.
Do You Need a Boutique Recruitment Agency?
It's no secret that quality talent is growing harder to find, and boutique specialists could give you the guidance you need to find the ideal skills … wherever you are.
Discover the true value that a boutique recruitment agency can offer you. Get in touch with us today.