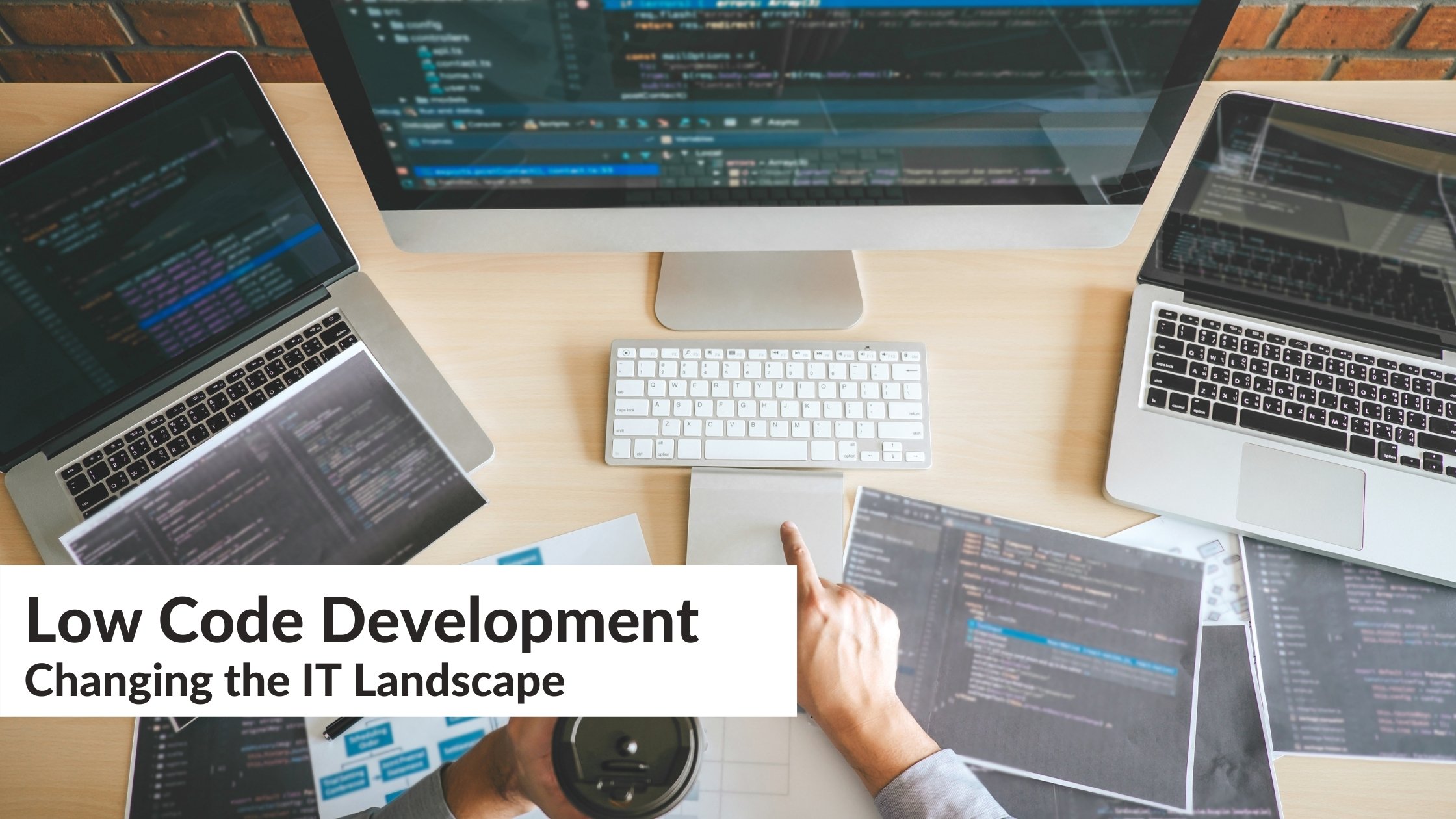 An emergent trend in digital transformation has been the rise of low-code development platforms. Charles Lamanna, Microsoft CVP, Low Code Application Platform, notes that "over 500 million new apps will be built during the next five years, which is more than all the apps built in the last 40 years."

These staggering numbers highlight the demand for low-code platforms to build apps, as well as a developer gap, as there's likely more demand for applications than there are developers to build them. IT teams are scrambling to keep up with demand. This results in long lead times and business users finding their own solutions, often through non-compliant "shadow IT" platforms.
More than ever, businesses must constantly innovate and transform to stay competitive. In a perfect world, IT would provide the platforms necessary to foster this type of growth.
What's driving the demand?
Remote workers are driving much of the demand, as they seek new tools to help manage what were once manual business processes. Early on, the move uncovered a need for additional apps to keep employees engaged and productive. As remote technology adoption proliferated, workers found opportunities to streamline and innovate these platforms through apps, automation, and integrations.
The unpredictable nature of modern business makes no-code tooling an easy way to design, build, and launch applications quickly, without having to worry about the nuances of underlying operating systems or scalability requirements. There is still a place for lasting, enterprise-scale applications, but demand for a new class of quick-to-build applications has emerged. These apps must be flexible, deployed quickly, and may even outlive their useful life in a matter of months. Their purpose is to keep up with an ever-changing business landscape and solve the problems they have right now.
Low Code Platforms and Governance
But what about governance, security and compliance? Well, they're absolutely necessary to realize the full benefits of low-code development. Governance is critical to ensuring digital transformation and as such, IT must create boundaries to ensure the growing numbers of developers and the assets they create remain compliant and secure.
IT teams must assess their environment and put fences around high-risk items. Data sources must be categorized and controlled, and application lifecycle processes should vary depending on the risk involved. For example, your governance model should ensure business-critical data never leaves your enterprise, and the application lifecycle processes for apps that consume this data should be more rigorous. Conversely, personal productivity apps that are not integrated with critical systems would have a much more free-flowing governance model.
The key is implementing a model that encourages innovation without putting your organization at risk of non-compliance. This requires work up analysis and configuration, but will pay off greatly once the innovation platform is live and transforming your business, all with minimal headaches for IT.
The Versatility of Power Platform
A great example of a low-code platform is Microsoft Power Platform, which includes Power Apps, Power Automate, Power Virtual Agents and Power BI. The suite provides a robust low-code development platform that includes app development, automation, chatbots, and rich, detailed data analysis and visualization.

With Power Platform, organizations can analyze data with Power BI, act on data through Microsoft PowerApps and automate processes using Power Automate.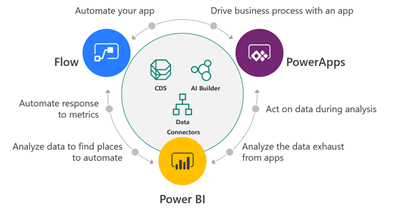 Source | Microsoft
Low code development
"Low code" is an often misunderstood phrase, so let's talk about what it really means.

For each of the Power Platform components, Microsoft has provided a rich graphical interface that allows people without development backgrounds to create rich applications without writing any code at all. Built-in actions are easily added and configured by filling in the blanks and telling the app how you would like it to behave.

Built-in data connectors facilitate integration with all apps in the Microsoft ecosystem (Teams, SharePoint, OneDrive, Outlook, Dynamics, etc.) and hundreds of third-party apps (Salesforce, Adobe, JIRA, Docusign - to name a few). Built-in publishing tests, packages and deploys the application with a single click.
Of course, these applications can be enriched through REST APIs, JSON, and other more developer-focused tools, but that's a topic for another day.

Bringing it all together
AMTRA can help you bring your organization's application innovation platform to life. We can empower your employees to be creators and problem solvers and help you create a culture of innovation that accelerates your business.

We will collaborate with you to create a scalable app platform that strikes the balance between organic innovation and controlled governance. This includes a collection of best practices, templates and decision flows to quickly implement a governance model that meets the customers' specific needs.

AMTRA will teach you how to enable, foster, and continue to grow a culture of innovation within your organization. We will train your administrators to govern and maintain control as the program grows, train your creators to innovate effectively, implement continuous learning models and help you understand how to manage applications and identify issues and opportunities for improvement.

Learn more.