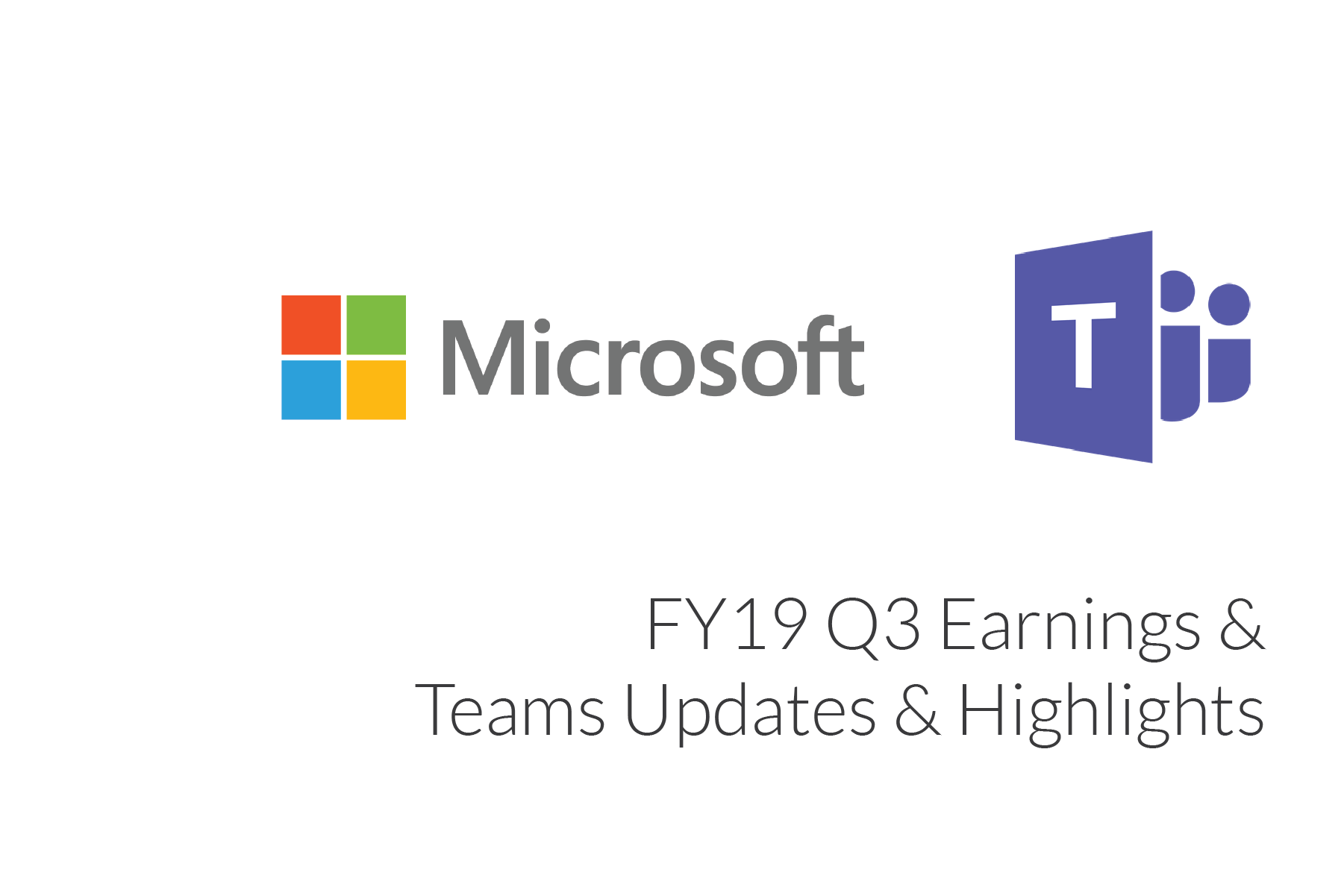 Yesterday Microsoft released their Q3 earnings. Congrats to Microsoft for exceeding Wall Street expectations on revenue, operating income, and earnings per share! (If you are interested, you can read the full transcript on the Investor Relations Website here.) This news is no surprise as we see the power of the Microsoft platform come to life as we work with organizations across Canada who are utilizing Microsoft solutions to transform and grow their businesses.
One transformative solution that we have seen a surge in demand for is Microsoft Teams. IAHO (In AMTRA's Humble Opinion) this is for good reason: Teams done right = a game changer. With the earnings data yesterday, Microsoft provided a recap of Major Product Releases and Highlights. On the first page of the recap was a list of the latest Teams awesomeness. Check it out:
New mobile features for Teams includes a unified chat and channel experience, location sharing, record and share audio messages, and a smart camera that includes using Office Lens to optimize a photo, making it easier to read and clearer to consume, but not storing it locally on the device.
The ability for Firstline Workers to customize their navigation bar.
A Firstline Worker app-setup policy, where IT admins can apply a prepackaged policy or create a custom policy to give their employees role-based access to the Teams modules they need. The mobile experience is customizable to provide workers and IT the ability to choose the most relevant capabilities for their work.
Microsoft Teams for Firstline Workers capabilities:
Shifts | The schedule management tool in Teams helps managers create and edit shift schedules, approve/deny time-off requests, leverage integrations with workforce management systems, and share real-time updates with their team. Team members can access their schedule, swap shifts, offer up shifts, and request time off, all from their mobile device.
Graph API for Shifts | Organizations can integrate their workforce management system with Teams by leveraging Graph API for Shifts.
Praise | This employee recognition tool in Teams enables managers and team members to acknowledge individuals.
Automatically access Microsoft Teams in new installs of Office 365 ProPlus::
Microsoft Teams is now installed with Office 365 ProPlus on PCs and Macs, along with other apps such as Word, PowerPoint and Excel.


Microsoft Teams with Data Loss Prevention:
Data Loss Prevention (DLP) in Teams enables you to identify, monitor and automatically protect sensitive information. With DLP, you can create policies directly from the Office 365 Security & Compliance Center to prevent sensitive information (credit card numbers, social security numbers or health records) from being shared or leaking unintentionally. Policies will apply to messages shared in private chat and in channel conversations.
If you want to learn more about how your organization can start planning for Teams, or if you are already using it, but want to improve your adoption or maturity, give us a call. In the meantime, checkout our latest Infographic with 8 of our favorite Teams tips and tricks that you probably aren't using, but should be!