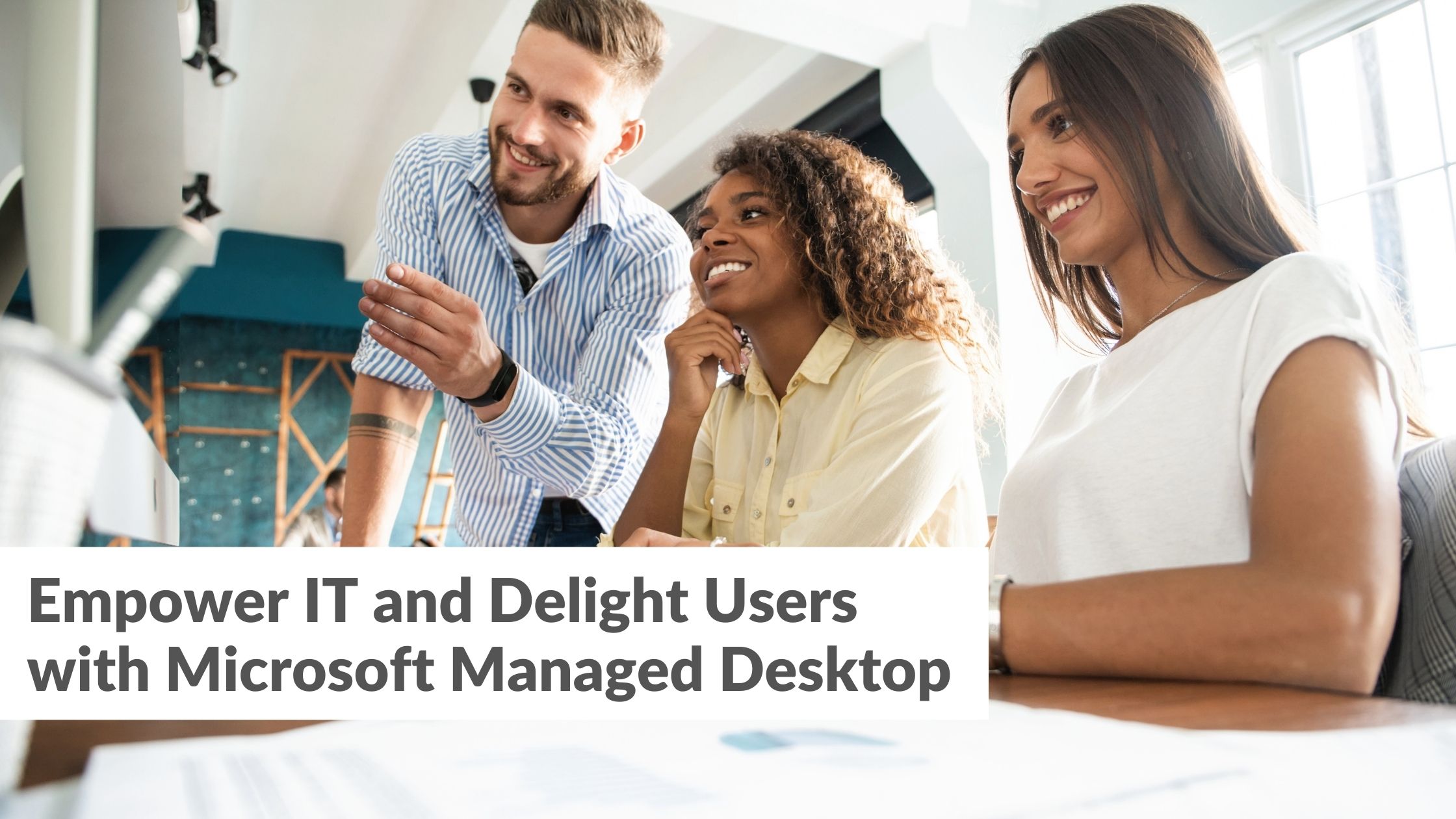 Lets face it, the world continues to operate at a fast pace, while the number of remote workers continues to grow. As we return to a new normal, which is likely a combination of in office and remote work, organizations are asking how they can keep pace with competing priorities and the growing demands placed upon them.
Device Management & Monitoring for the Modern World
The solution is Microsoft Managed Desktop (MMD). It's one way your team can 'outsource' the management of digital infrastructure, allowing your IT Department to focus on what really matters - your organization's key priorities. The cloud-based service is an efficient solution to address the many challenges faced by businesses today. MMD brings together Microsoft 365 Enterprise with user device deployment, IT service management and operations and security monitoring.

In a nutshell, MMD takes the place of your IT department when it comes to device management and monitoring, allowing your team to focus on other IT admin activities. With MMD you get:
Device Monitoring

Device Management for Registered Devices

Hardware Management

Update Management

App Management
Improve Efficiency & Maximize Security
So why would you choose Microsoft Managed Desktop when you can manage your own devices and Microsoft 365 deployments yourself?

For starters, with Microsoft Managed Desktop users will see 75% faster boot up times for devices, twice the battery life and 33% fewer device crashes per year.
Your team will receive regular insight dashboards which keep you up to date on usage, reliability, device health, and other data. You will see a 90% reduction in the time it takes to update devices and have better awareness of device and app performance along with earlier warnings of security issues.
Great for the End User - Even Better for IT
At a basic level, users want an empowered, connected, work experience and organizations want to ensure devices are up to date and secure. Let Microsoft Managed Desktop transition you to the agile world of software as a service.
Download our infographic to learn more about the benefits of Microsoft Managed Desktop.