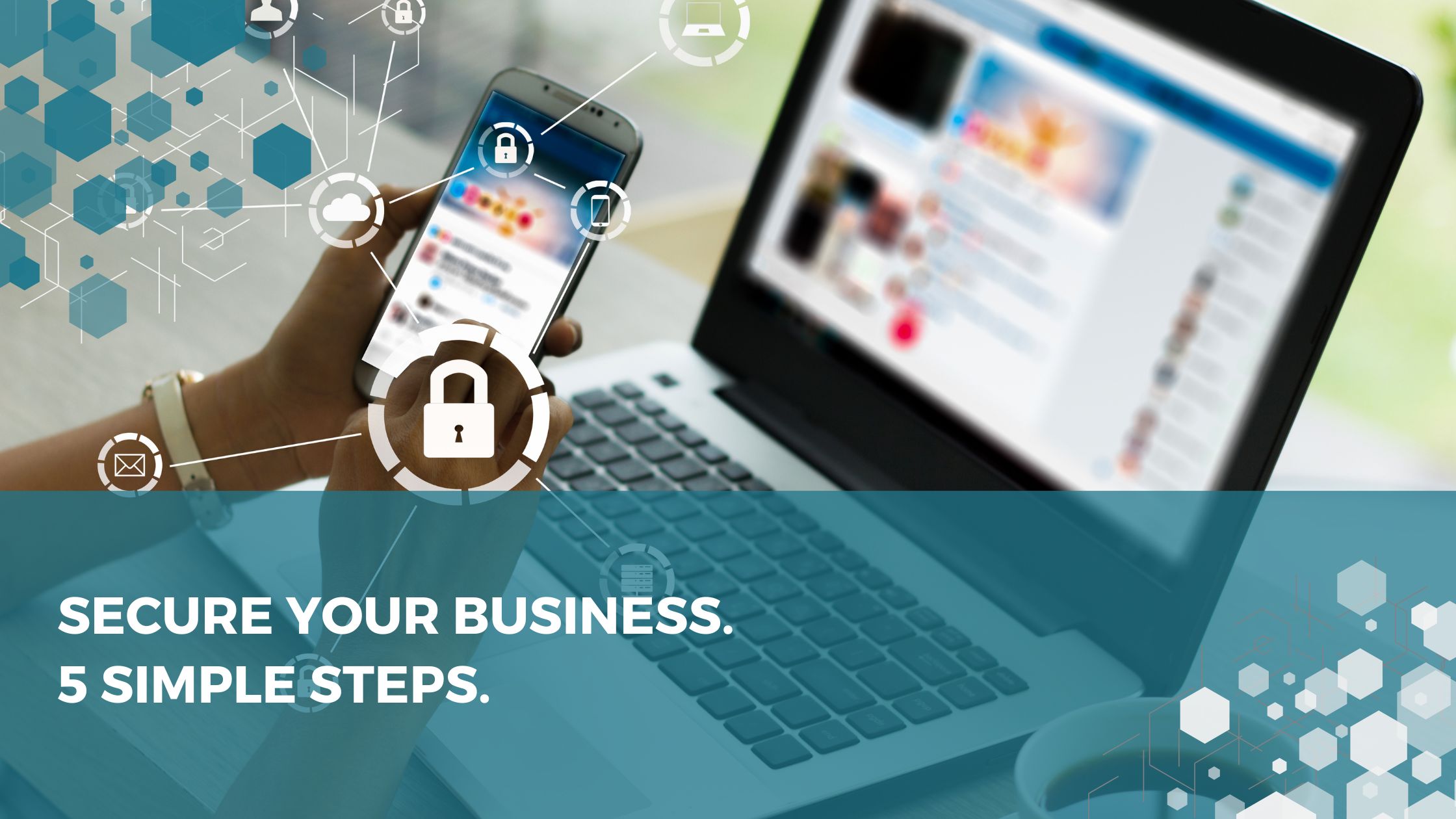 Running a business requires a ton of determination. Each day brings with it new challenges, including the risk of cyberattacks, which never seems to go away.
In fact, did you know that 43% of all cyberattacks target small businesses, and that sadly, 60% of those businesses will permanently close their doors within six months of the attack.1
How do you stay one step ahead of unsavory characters?

Here are 5 simple steps to help you protect your business.
1. Monitor. Monitor. Monitor.


A simple move to cloud-based security can give your business an edge in terms of making protection one less thing to worry about. Currently, the Microsoft Cloud:
Tracks and analyzes 43 trillion threat signals daily. This includes 35 ransomware families and more than 250 unique nation-states, cybercriminals, and other threat actors.2
This breadth of protection is built into Microsoft 365 Business Premium. It delivers enterprise-grade protection against viruses, spam, unsafe attachments, suspicious links, and phishing attacks. Plus you'll get protection against ransomware and malware attacks.
2. Upgrade Your Locks


Protecting your business starts with one simple step. Updating your existing systems.

Make sure your computers are continually updated and configured and that it maintains an up-to-date IT inventory.



Businesses can further protect themselves with regular data backups. Ransomware attacks against your business data can be thwarted by regularly creating backup copies of your important files. Automating your backups according to a set schedule can help your business maximize limited resources while avoiding potential human errors.
3. Hide Your Keys
A recent survey found that among the most common passwords still in use, 'password' and 'Qwerty' are top on the list.3
Every cybercriminal has a brute force attack known as password spray.4 Simply put, an attacker acquires a list of accounts and runs through a long list of common passwords attempting to get a match. To ward against this, your business could consider eliminating passwords entirely with Windows Hello or FIDO2 security keys that let users sign in using biometrics or a physical key or device. Short of going passwordless, MFA is your best bet to generate secure access for your business.


4. Be Careful Who You Let in the Door
Every business should stay up-to-date on the latest phishing and social engineering scams that bad actors use to seek entry into your business. In 2022, the most common causes of cyberattacks were malware (22%) and phishing (20%).5 Threat actors have figured out that people are the weak link (85% of breaches involve a human element), and are ramping up the frequency and sophistication of their attacks.6

Both Defender for Business and Defender for Office provide protection against advanced phishing, malware, spam, and business email compromise.7
5. Stay Informed


No matter the size of your business, there are cybersecurity resources available. Even if your only employee is yourself, cybersecurity training shouldn't be looked upon as a one-and-done task. Threat actors are constantly learning and updating their skills, and so should we.
We are here for you
We're all in this together and AMTRA can help. Be sure to take advantage of our Defend Against Threats with SIEM plus XDR workshop, where you'll get insights into the security vulnerabilities in your environment. And download our Infographic to learn more about 5 Steps you can do now to protect your business.


1Why small businesses are vulnerable to cyberattacks, Linda Comerford, May 25, 2022.
2Cyber Signals: Defend against the new ransomware landscape, Microsoft. August 22, 2022.
3 These are the 20 most common passwords leaked on the dark web—make sure none of them are yours, Tom Huddleston Jr. February 27, 2022.
4Protecting your organization against password spray attacks, Microsoft. April 23, 2020.
550 Phishing Stats You Should Know In 2022, Caitlin Jones. September 7, 2022.
6Alarming Cyber Statistics For Mid-Year 2022 That You Need To Know, Chuck Brooks. June 3, 2022.
7Microsoft launches Defender for Business to help protect small and medium businesses, Microsoft. May 2, 2022.