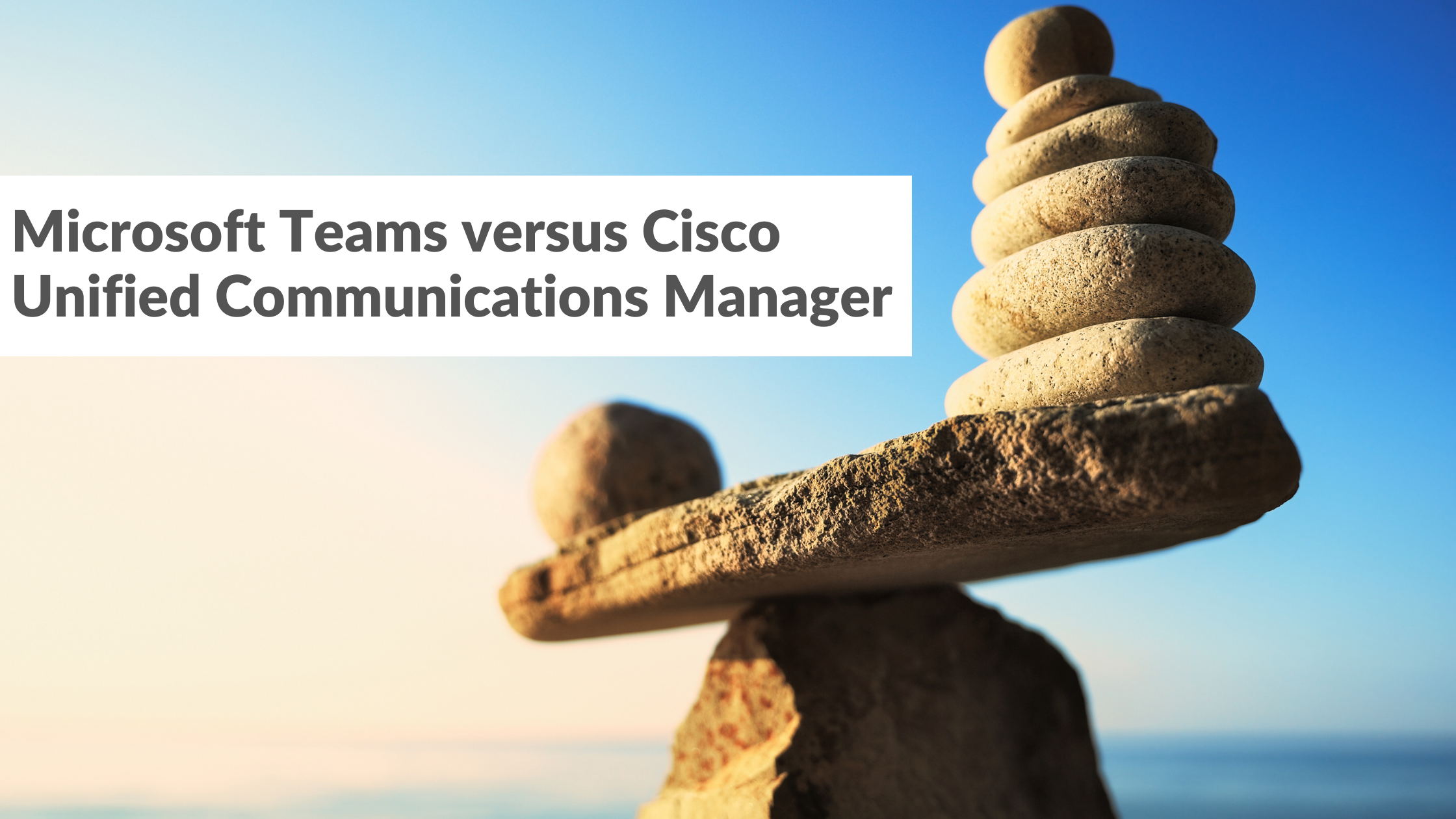 Microsoft Teams and Cisco Unified Communications Manager (UCM), are online communications platforms designed to centralize communications across large businesses. Cisco UCM is an established enterprise option with extensive flexibility for complex communications needs. Microsoft Teams focuses more on collaboration within a business, offering extra features to help users work together better.

Both platforms include core communications features like high-quality IP telephony and video conferencing, but they each offer unique benefits.
Telephony
Microsoft Teams offers cloud VoIP PBX telephony, as well as PSTN services with the Microsoft Calling Plan. Users have easy access to information, call forwarding, auto-assistant, voice/video calling, desktop sharing and conference calling. As well as e-meetings with sharing enabled, recording capability and access to past meetings, complete with analytics and call analysis. Direct routing is available for organizations that do not want to use the Microsoft-based calling plans and would rather use their own trunking services and carriers.
In contrast, Cisco's Unified Communications Manager is an IP-based communications system that allows customers and co-workers to connect through audio or video. The primary function of UC Manager is call processing and phone registration.
Security
The benefits of both Microsoft Teams and Cisco Unified Communications Manager are that they have the support of two mammoth companies. While the platforms offer both security in their development and building, they also offer a multitude of tools and options for organizations to remain secure.

Microsoft Teams was built on the Office 365 hyper-scale, enterprise-grade cloud meaning it provides the same security as the rest of the Office 365 platform. It also delivers tools such as a security and compliance center, eDiscovery, legal hold, compliance content search, archive, retention, and audit logs. It has a deeply rooted architecture of protection, as the tools are integrated throughout the Office 365 suite.

Similarly, Cisco has the certifications to back up their security claims. These include eDiscovery, unique device PINs, idle time-out and flexible content retention. Cisco differs a lot from Microsoft in that it provides slightly more control at a user level, as opposed to features for administrators to set overall. While this may be great for users, it can be problematic for those who are untrained, or for IT teams who may have stricter policies than the end-users themselves.

Room Systems
Microsoft Teams Rooms offer much greater flexibility and a variety of hardware options featuring partners like Yealink, Logitech, Crestron, Poly, Lenovo, and HP. There are dozens of options that support a variety of room sizes and offer features like proximity detection, one touch-join, companion experiences with mobile, and support for dual-screen rooms.

Cisco builds on the legacy of Cisco meeting room hardware. There are several options to choose from, including options with turnkey video collaboration and kits to connect with 4K displays. Cisco also has RoomOS, which gives an overview of new features and capabilities available for Cisco Webex registered room and desk devices.

Integrations
Microsoft Teams is tightly integrated with Office 365, building its case for being 'the' collaboration hub. Plus, it has a growing list of applications and bots available in its app store. The Cisco value-add comes for those who already have an installed base of Cisco voice and video endpoints and a fairly long list of apps available in their App Hub.

And the winner is ...
Despite appearing similar at a high level, Microsoft and Cisco ultimately have a different overall company direction. Microsoft Teams rolls up into the broader Office 365 story surrounding productivity and collaboration, while Unified Communications Manager is part of a larger Cisco meeting and conference story with a long legacy of hardware focus.

In most instances, Microsoft Teams makes the most sense ... especially if you're already an Office 365 user. Cisco Unified Communications Manager may be the right answer if you're already heavily invested within the Cisco environment, but buyer beware as there are limited toolsets available to effectively monitor, manage and secure your communication and collaboration environments.

For a feature by feature comparison, check out our comparison guide.I