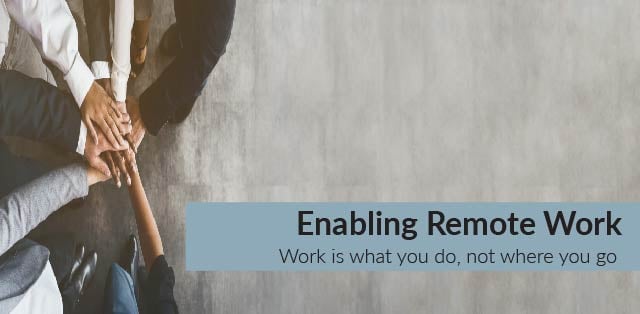 Work is what you do, not where you go.
It almost goes without saying that the way we work will never be the same again. For business and technology leaders, the challenge is to find ways to achieve resilience. To meet this challenge, companies need solutions that elevate their workers' experiences and productivity, securely from anywhere. They need to figure out:
How do we help our employees work more effectively?
How do we make it easy and reliable to access enterprise tools and content from anywhere?
How do we enable workers to connect with each other and access relevant data?
How do we introduce and encourage a unified approach to deploying and using productivity tools?
How do we protect our employees, data and infrastructure from increased security threats and vulnerabilities, while working remote?
A Shift in Thinking
To meet these demands, companies need to change their way of thinking. They need to focus their investments on secure upgrades to experiences, applications, and infrastructure so their workforce can be productive from anywhere. These remote solutions, tools, and workflows, along with employee adoption programs, will help companies get work done now, and build a strong foundation.

Getting started
Step 1 | Build the foundation
A solid foundation is a must, which is why you should look at your technology environment and organizational culture to identify critical gaps. Consider how you're going to prepare your workforce and set the stage for a secure, successful transition. Create a culture of trust and implement trust-based policies, that place the confidence and responsibility with your workers.
Step 2 | Deploy
This is where you'll want to take a look at your existing tools and compile a list of solutions that can make your remote work vison a reality. Consider governance tools, customized power apps and even AI-enabled bots. With the right tools and support, your people can work from anywhere.


Think about how Teams can serve as your one stop shop for email, chat, meetings, video and collaboration. And consider how the cloud is the ideal host as it's secure, encourages safe sharing, and includes data management.

With Desktop as a Service (DaaS), you have a great example of an application that encourages remote working. It enables workers who want to access corporate data from anywhere while eliminating IT concerns around security, patching, updating, management or hardware purchasing.

Step 3: Enable the organization
This step is where communication is king! Start with leadership and get them trained on how to use the tools for optimal productivity. Then move on to customized training, collaboration tools, change adoption and cultural transformation plans to enable your employees to be productive, all the time, and from any place.
Step 4: Embed resilience
Once you're up and running, create a plan and train employees. This will help you evolve your culture to be more resilient over the long term. Ensure appropriate governance, oversight and risk management practices that set a firm mandate, with clear accountability and the support of the executive. Break down silos, especially when it comes to areas that cross traditional internal boundaries and responsibilities.
Work is what you do, not where you go
AMTRA takes a people first approach to design virtual workplace experiences that truly enhance productivity.

We know the challenge is multi-faceted, and unique to every company. Download our Infographic to learn more about Chat, Meet, Call and Collaborate with Microsoft Teams.