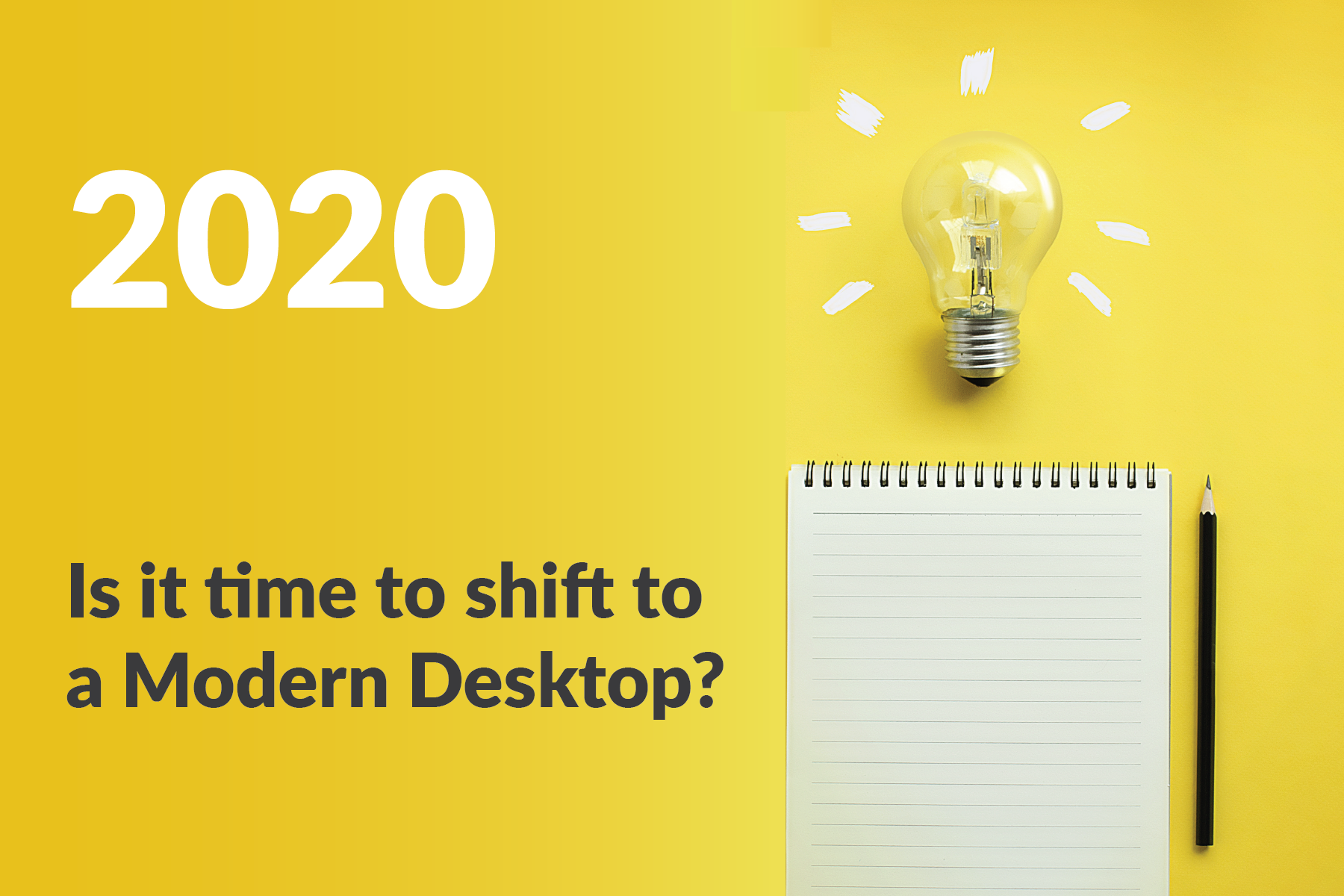 Everyone is talking about adapting and changing, simplifying business tasks and achieving greater productivity. Phrases like 'modern desktop' and 'digital transformation' are the all the buzz, however, does anyone really know what they mean?
In our earlier blog, "Modern Desktop - What exactly is it?" we defined it to be the experience that enables your workforce to be mobile and secure, while supported by the latest productivity tools. Deployed and managed in a simple manner to minimize overhead, a modern desktop allows you to always be on a current OS. For us, that includes all the latest and greatest that Microsoft has to offer from Microsoft 365, which includes: Windows 10, and Enterprise Mobility + Security.

Studies show that technology trends for the next decade include moving to these modern business environments with virtual desktops, flexible and mobile workforce, greater collaboration productivity platforms, importance of IT security, improved IT user experience, and transitioning workloads "to the cloud". Although you can't do everything at once, we believe that shifting to a modern desktop and starting your digital transformation journey is the way to go.
Outlined are a few goals you might wish to consider this year.


RUNNING THE RIGHT OPERATING SYSTEM
Is your organization still operating on an outdated (or soon to be outdated) systems? Microsoft announced two big software systems going out of support that you should mark down on your calendar, those being Windows 7 (January 14, 2020) and Skype for Business (July 31, 2020).
Moving to Windows 10
Windows 10, or Windows as a Service offers predictable releases, twice per year. They are each serviced for 18 months, from date of release and are deployed in such a way that the end user impact is minimal.


Moving to Microsoft Teams
If you are not on Teams yet, we highly recommend you make the shift now. With such a powerful collaboration and productivity tool, you will find your team outperforming like never before.

EMPOWERING USERS WITH POWERFUL DEVICES
Is your team working on old devices? Is it time for hardware refresh?
Making sure your employees have efficient working devices is critical to the performance and productivity of getting work done. Devices that are compatible and made to meet the many different types of user preferences and tech specifications, help empower your workforce to do their best work. Microsoft Surface devices do just that, and with its seamless integration to Microsoft software, it makes it that much more powerful of a tool to operate on.
Are you considering making the journey to Microsoft Managed Desktop (MMD)? Make sure your devices are secure and meet device health requirements. Supporting hardware refresh cycles with Device as a Service, AMTRA will help you get the proper authorized devices needed for MMD specifications. Check out the authorized list of devices here.
ACHIEVING A MOBILE WORKFORCE
There is a shift in work culture that having flexibility and adaptability to be able to work from anywhere at anytime has become more a standard practice. In order to achieve this new culture, organizations must be equipped with:
Easily portable devices to make mobility simple
Applications accessible anywhere allowing employees to be productive
Cloud computing (IaaS) to provide a consistent experience and reduce data latency
Robust security features to keep corporate data and files protected
The combination of these helps to achieve greater productivity and collaboration from organizational work teams.

With Microsoft applications such as Teams, its now easier than ever to work together and get your team collaborating on projects and tasks. Being able to join meetings, share and store documents, co-edit material, chat with coworkers, and access other applications makes working remotely easy (and that much better).

EMBRACING TECHNOLOGY CHANGES
It is always difficult to learn and adapt to new technologies and software systems. Some workers will pick it up quickly and are tech savvy whereas others are slower at understanding the basic functions of the operating system.

With an adoption and change management policy in place you can help avoid technology confusion and get your team collaborating and working more productively by utilizing features and functions of operating systems to their best capability. AMTRA's Adoption & Change Management speaks to just that – we are here to help you through your digital transformation journey beginning to end, technology implementation to end user adoption.
So, what goals will your organization focus on?

Shift to a Modern Desktop and achieve your IT digital transformation goals. Reach out to our team today to ask how info@amtrasolutions.com.