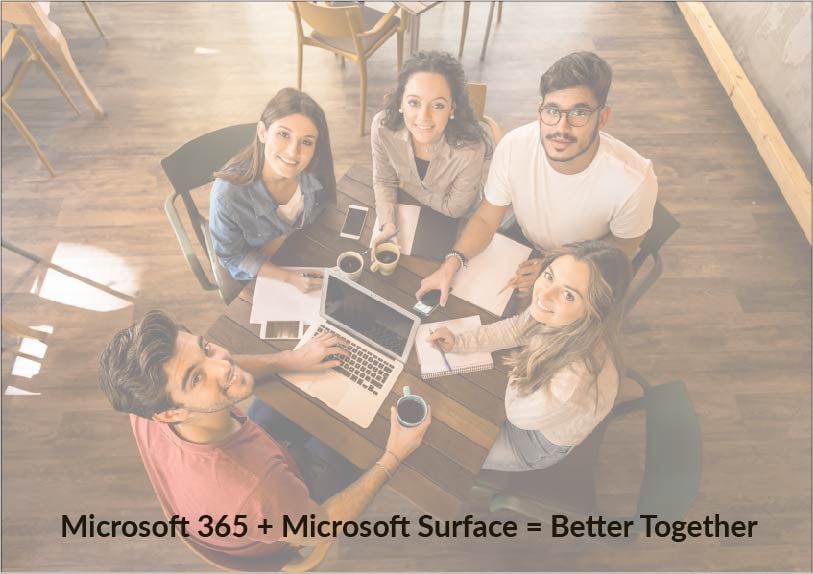 What's the right Surface device for you?
Everybody has a different way of working on their digital devices. Some prefer a mobile handheld tablet, others wish to be anchored to a set station, and some prefer a touch screen and pen.

The versatility and functionality of a device makes all the difference when it comes to maximizing the user experience and getting the most from your employees. With Microsoft Surface, you can meet the needs of individual work styles, while collaborating across the Microsoft 365 platform.

With the Microsoft Surface, you can:
Elevate productivity

Optimize team collaboration

Effectively manage your time
Elevate Productivity | Work where you want, how you want
Delivering flexible workstyle options is what the Microsoft Surface is all about. Employees can do and achieve more by using a device that compliments the way they work, where they work. Seamlessly integrated with Microsoft 365, Surface devices create accessibility and ease when working on tasks and collaborating with others (sharing files and co-creating content). No matter how challenging the structure of your team (think global, remote workers), you can coordinate all the details and get everyone on the same Teams channel with their Surface device.

Optimize Team Collaboration | Together or remote
With Microsoft Teams on your Surface devices, you can call, meet, chat, collaborate and brainstorm. You'll be able to better manage people and workflows with apps such as Planner, Excel, OneNote and PowerPoint.
Better communication will be realized through video conferencing and calling, and quick feedback can be provided with the chat function. If you want to be more personable, or even a bit cheeky, use the emojis, GIFs and stickers, which are innate in the platform.
Time Efficiency | Focus on the right things
With ultra-responsive Surface keyboard, you get fast, accurate typing, and the Surface headphones help you stay focused on getting things done right the first time. Surface runs your Office apps no matter where you are, with all-day battery life³ for unplugged freedom.
With Surface devices, you're ready for any situation. Miracast wireless projection ends fumbling with cords and dongles,Intel® Core™ processors allow you to work in multiple applications at the same time, and all-day battery life means you're unplugged and portable. The result … polished and professional boardroom presentations, client off-sites, vendor meetings and team training sessions.

Let us help pick the Right Surface for you!
As a Surface re-seller, AMTRA can help you create a tailored productivity suite for your on-site, remote and front-line workers.

Connect with us today 1.855.326.0533 or info@amtrasolutions.com to learn more about how Surface can elevate your team.