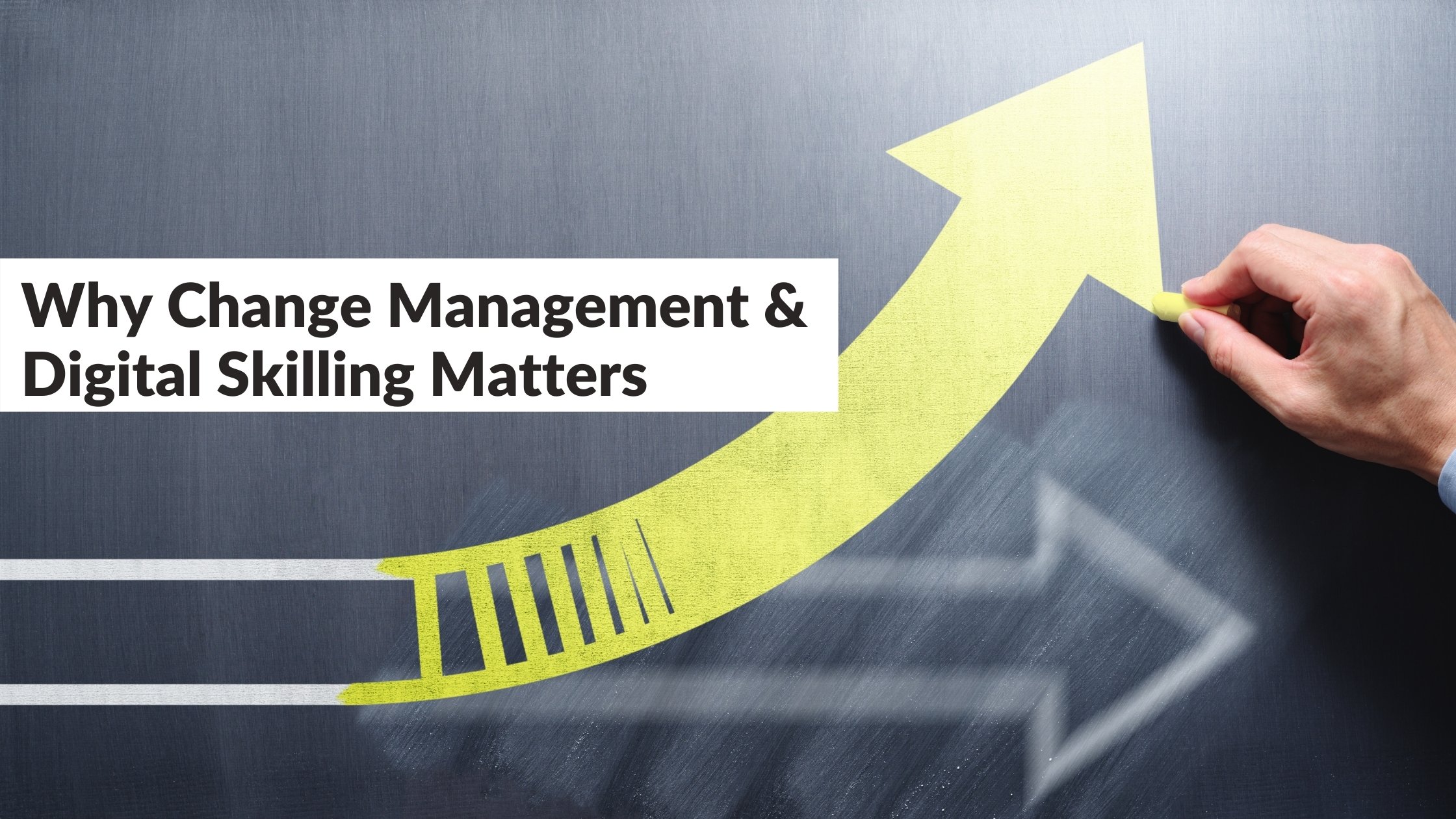 AMTRA Solutions is a Modern Workplace provider, which means we implement Modern Work technology solutions (such as Microsoft Teams, SharePoint, Windows Virtual Desktop and the Power Platform, among other Microsoft solutions) to help your organization work more effectively and efficiently.

While we pride ourselves in being pretty good at the technical configuration and implementation of solutions, what sets us apart is our obsession with Adoption & Change Management and Digital Skilling.
Surprisingly, we still meet many people within organizations who are resistant to adopting new technology. Perhaps they feel comfortable with their current state, have had a bad experience, or don't feel it's necessary to learn new tools and new ways of working. Unfortunately, this is a professionally self-limiting attitude, as well as one many organizations are looking to 'run out of their halls'…
Here are a few reasons to invest in a solid Adoption & Change Management program to encourage adoption of new technology and further develop your organization's modern workplace skills:
Communication | Corporate communication tools are changing rapidly, as are the norms of usage. Without understanding what to use when, and how to use the tools, you will be out of the loop 'information wise' and will not be able to effectively contribute to your team.
Information Management | Organizations pay people for their ideas, content creation and activities. The results of their work are corporate assets, to be leveraged, to achieve the organizations' objectives. You are expected to manage organizational assets properly, with care and attention to privacy, retention and of course, access. If you don't know how to use the tools, you won't know how to do your job properly.
Automation | Work is moving at a faster pace and people are expected to work efficiently, while producing high quality work. A core tenant of this expectation is that routine, low value, mundane tasks which consume a lot of people's time can and will be automated in the coming year or so. While building the automation may or may not be your direct responsibility, understanding the process and where you can provide elevated value, above the automation is necessary to remaining relevant in your role.
Cumulative Development | Some people determine that certain technologies don't apply to their role, while others get away with minimal technical understanding of the solutions they work with. This may serve in the short term, but understand that every new function, and indeed technology solution, is built on the framework and functionality of an existing system. Hence, not understanding technology today will put you at a greater disadvantage when the next round of technology comes out. Regardless of where you are today, the best advice is to start learning what's in front of you - knowing that there will be new technology coming that is built on top of the current foundation.
Hybrid Work | COVID showed organizations that many people can execute on their deliverables from outside of the traditional office space. This provides opportunities for organizational cost savings, cultural realignment, flexible work offerings and many other 'flexibilities' not previously available. A foundational assumption in offering the ability for hybrid work is that people know how to safely and effectively use the tools that bridge the distance between people and information.


Collaboration | It is rare that people work completely in isolation and don't receive others' input on decisions. The trend towards gaining team buy-in as well as ensuring everyone has had a chance to contribute is fundamentally driven by the ease and efficiency of doing so. If some team members don't know how to use the collaboration tools fully, they simply won't be involved to the extend that those who do are included.
Visibility | With the shift towards hybrid work, combined with the general mobility of today's workforce, many leaders aren't able to supervise their people without the assistance of digital means. If you don't know how to use the tools, you won't be 'seen' as contributing by your managers. Further, leaders who can't digitally see their team members' performance will be forced to resort to traditional, time consuming means such as tracking the number of hours people work in the office.
Security & Compliance | Taking care of organizational information, personal information and client information is an essential part of every knowledge workers' job (and there is a lot to keep track of)! It's important for people to know how to use the tools properly so they don't expose the organization to a lawsuit or inadvertently share private information. While the technology can support many intentions in this space, people still operate the solutions and are the necessary element to compliance.
Don't become invisible.

Don't be left out of the conversation.

Don't work inefficiently and ineffectively.

Instead, invest in your education and modern workplace skills. You'll be surprised at how much you'll benefit from this today...and tomorrow. Plus, its a great way to impress your boss and show that you're really in the game.
Let AMTRA help you stay in the game. Our experts can plan your business transformation journey, and ensure you have an effective Adoption & Change Management strategy in place.