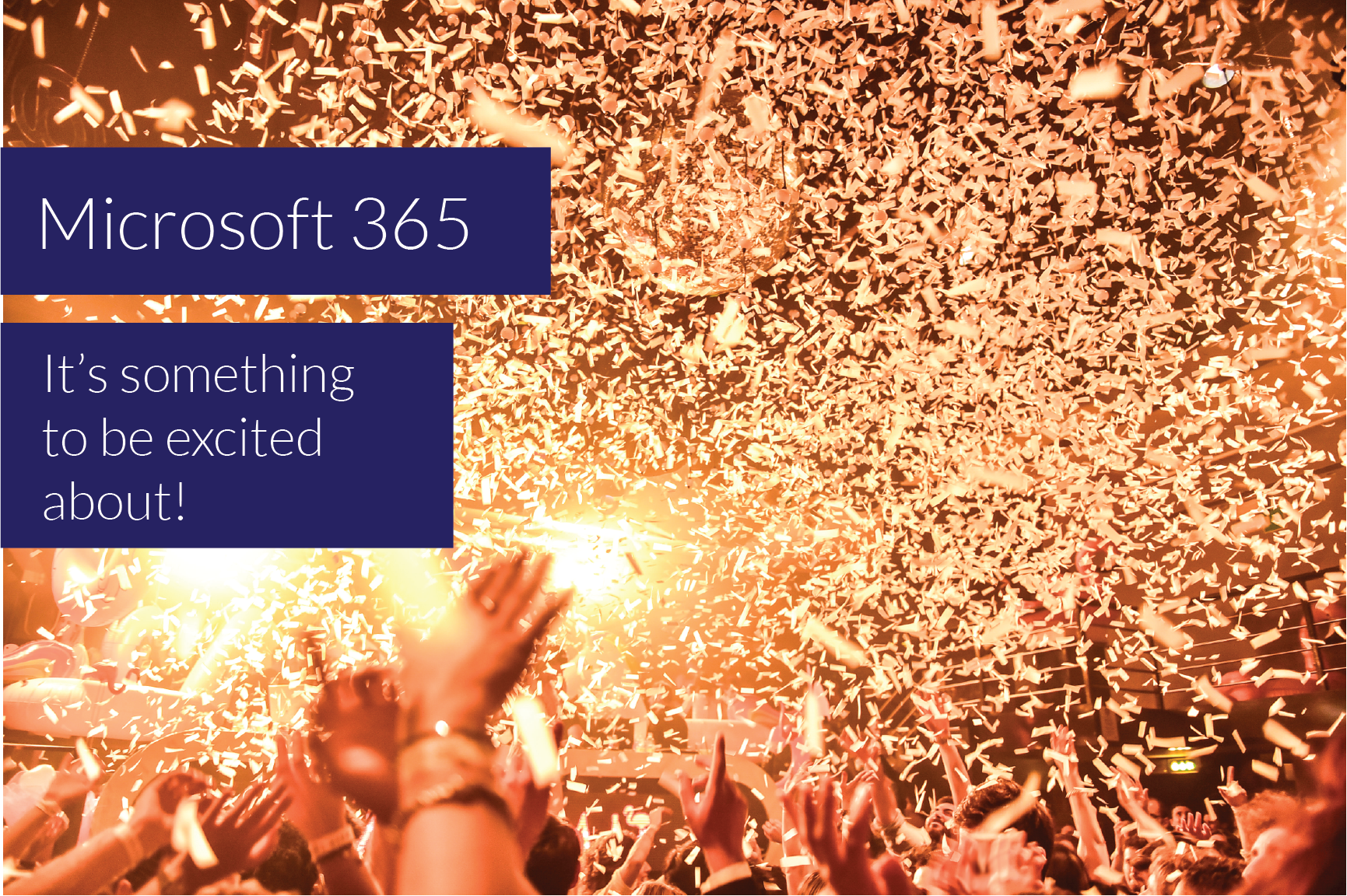 As we explained in our previous blog, "Microsoft 365. What is it?," Microsoft 365 brings together Office 365, Windows 10 and Enterprise Mobility & Security.Since Microsoft made the announcement, we have heard the following a few times: "Wait a second, are they just bundling products so I have to buy it all?" While this is a logical reaction, we decided it was time to address it and explain why we think Microsoft 365 is something everyone (end-users, IT teams, security architects and executives) should be really excited about.
To give you the quick answer, we created an Explainer Video which you can view below.
Or for a deeper look, you may want to check out Microsoft's e-book: A Crash Course in Microsoft 365 Business. For those on a time crunch, and because we love to be helpful, we read the e-book for you all and have included the highlights below:
Business growth depends on:
Everyone doing their best work, which means enabling your staff with the collaboration tools they need.
Protecting your business's vital information.
Ensuring your team can access the files and data they need as they work.
So, to help businesses like yours achieve the above, Microsoft is offering an integrated platform that brings together the productivity of Office 365 and the security of Windows 10 in a cost-effective, subscription-based cloud service.
To illustrate the power of the platform, Microsoft details a number of different business scenarios within three core pillars that are enabled by the platform.

First Pillar: Achieve more together
Scenario 1: Drive decisions with visual collaboration. It is easier to make decisions quickly and keep the work moving when your team has access to data, information and the people they need.
Scenario 2: Stay productive on the go. Collaboration shouldn't be limited when your teams are geographically distributed or working remotely. Team sites provide a set of tools integral for collaboration.
Scenario 3: Stay a step ahead. Information isn't much use when your team can't find it, not to mention all that searching - it is such a waste of time! OneDrive for Business helps your employees find what they need, fast.
Second Pillar: Anywhere it matters
Scenario 1: Stay connected even offline. Across any device, you can write emails, schedule meetings, and access contacts stored on your device even when you are offline. Once connected, everything will be sent, synced and updated bringing you back to "real time."
Scenario 2: Sync files automatically. Access, edit and share documents across devices, and never worry about having the latest version, because files stay synced with OneDrive. Sharing files inside and outside the organization, while granting permissions is also easy.
Scenario 3: Create and collaborate anywhere. Stop emailing documents back and forth to collaborate and contribute. With one version saved to OneDrive, you can work on a document at the same time, and jump on a Skype video call to make decisions and edits together, quickly.
Third Pillar: Always-on security
Scenario 1: Reduce your security risk. Microsoft 365 Business includes all the security features of Windows 10 Pro, including Windows Defender Management Controls. With simplified, integrated management and automatic and universal enforcement of policies, your business's risk profile will be lowered.
Scenario 2: Get up and running fast. Deploying and managing users, devices and apps on Microsoft 365 Business is streamlined and straightforward and happens all within a single admin console.
Scenario 3: Protect your data and devices. Microsoft 365 is built with enterprise-grade security in mind, without breaking the bank. Automatically, users will receive all the latest security updates keeping your business's data protected across devices. Devices no longer being used for work, can be remotely wiped easily while leaving personal data untouched.
See, we told you it is something to get excited about! And these are just the highlights of the platform!
If you have questions about any of these scenarios or want to know more about how Microsoft 365 could help your business, get in touch and you will be connected with a Certified AMTRA Productivity Master. As a Microsoft Gold Partner and CSP our Productivity Masters will be able to answer all of your questions and help you understand your best path forward for embracing the power of Microsoft 365.