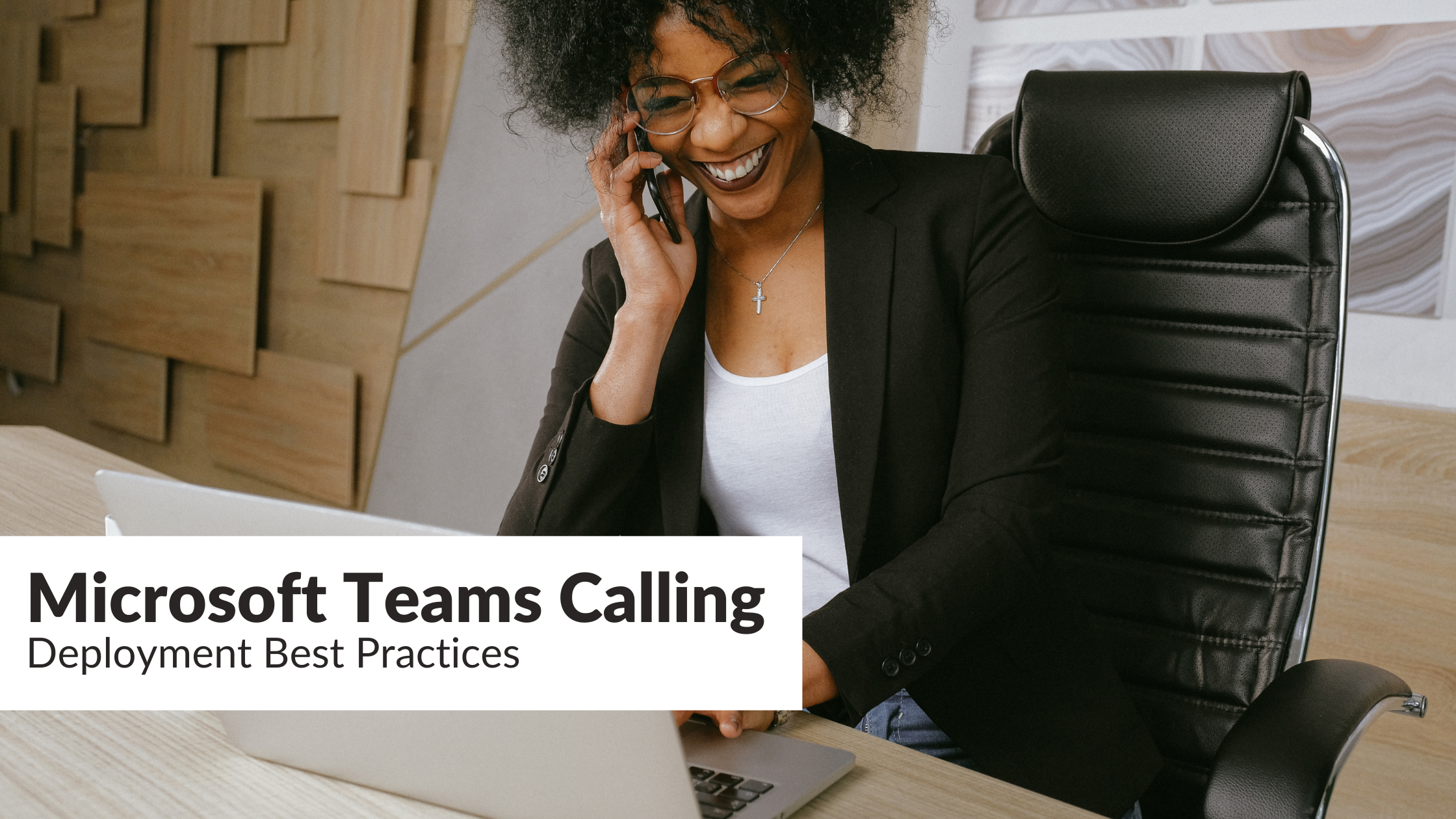 In our last blog, we talked about the latest and greatest Teams Calling Features. Now we'd like to talk about why Teams Calling should be the next solution you consider and how to successfully deploy it in your organization.

The Research
Recently, Forrester Research completed a Total Economic Impact study of Microsoft 365 Cloud Voice adoption and the financial business case for Cloud Voice was compelling. Forrester concluded that Cloud Voice has the following three-year financial impact:

$9.5M in benefits versus costs of $2.6M

A net present value (NPV) of $6.9M

An ROI of 261%.
These are some convincing stats. But how can you apply Teams Calling to your organization and what process should you follow? To help, we've broken it down into 4 stages:
Design
Where are you today? Are you currently on a legacy PBX system? Have you thought about Teams but are not sure if it will meet your voice needs?

If this sounds like you, envisioning a strategy is a great starting point. This is where you'll plan and design your services for telephony and calling, which are fundamental to a successful Teams calling deployment and will help you outline the next steps required for a move to Teams Calling.

Deploy
Are you already on Teams and looking for a Voice Cloud solution? Are you considering a Teams Phone System for your voice platform? How will you get there?

If yes, then your starting point is enablement. This stage focuses on lighting up Teams Calling and determining how best to set up a Teams Phone System and connectivity to public switched telephone network (PSTN) services.

Drive Usage
Have you already implemented Teams Calling, but are struggling to drive usage? Do some of your departments have high Teams adoption, while others are slow to embrace? What does success look like for you?

Then your starting point is a plan to drive usage, with a goal of driving collaboration. This involves a shift from a physical phone to headsets and mobility, along with a significant shift in the way people work.
Desktop Support
Are you struggling with a high rate of help desk calls? Or are your employees slow to adopt and running in to roadblocks in their quest to fully adopt Microsoft Calling?

If yes, then you'll want to look at a monitoring, management, reporting and support plan for your Teams calling deployment. The plan should be an end-to-end approach that supports your calling and voice experience, and includes a multitude of support options.

We Can Help
As you can see, no matter where you are in your Teams journey, there is a way to implement Teams Calling and drive adoption. Let AMTRA guide you on your journey. We have a proven methodology to help you assess where you're at, evolve your voice technologies, build a plan, and deliver on that plan.


Learn More
View our Teams Calling Webinar - The Microsoft Voice Story with Bruno Dumouchel to learn more about the Teams Calling journey.
And sign up now for Bruno's future webinars which will cover Teams Calling Plans and Direct Routing and Empowering Teams Voice for IT Pros.