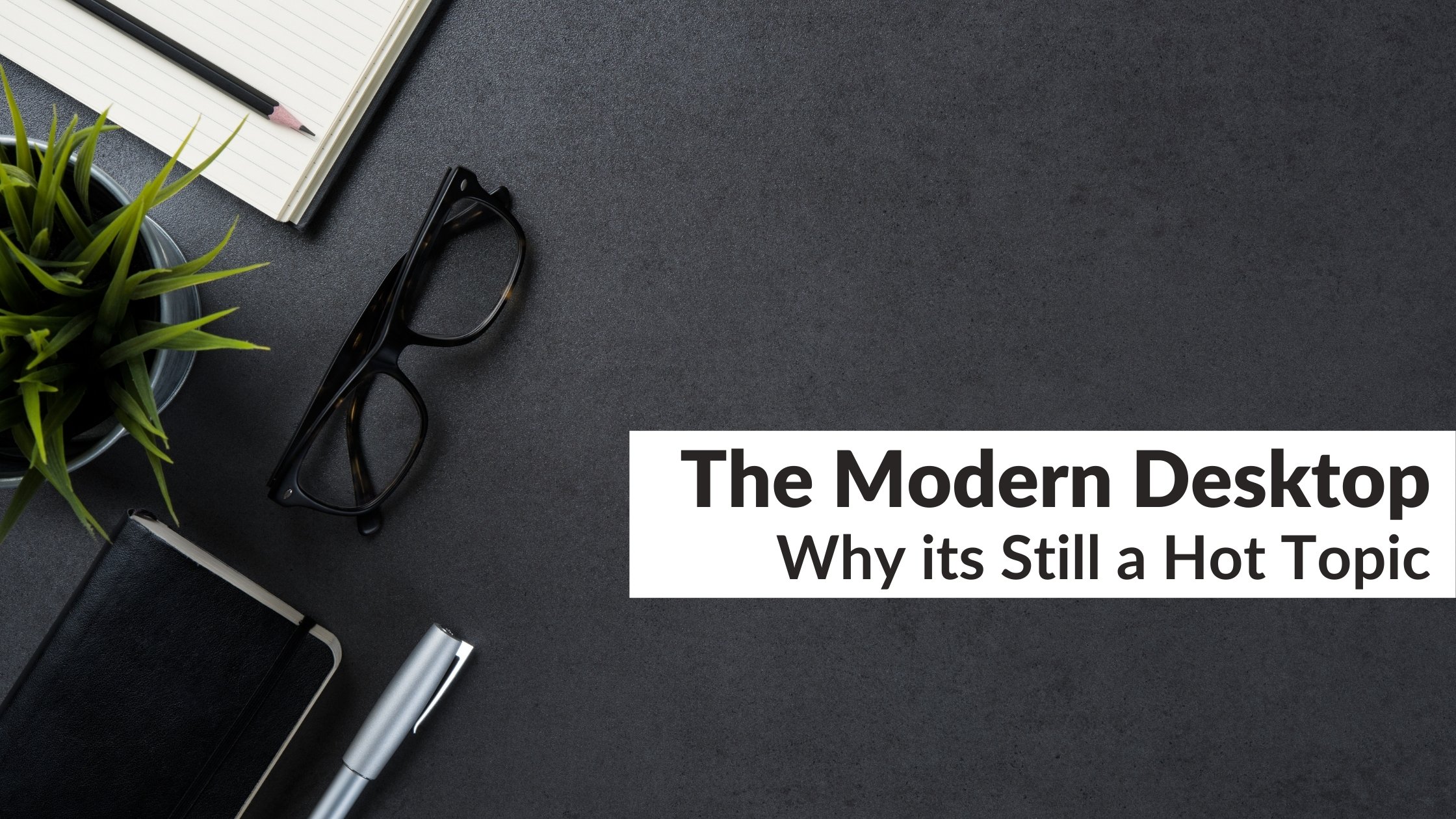 The Modern Desktop continues to be a hot topic. But why, and why should your company care?

At its core, the modern workplace is about a change in culture and developing strategies in which to better leverage the latest, greatest technologies in alignment with business processes.

It's driven from a deep desire and understanding to create a positive, collaborative culture suited to the modern worker. As well as an understanding that digital technology and tools are enablers of productivity and efficiency.

What's in it for Organizations?

For organizations, the primary attraction of moving to a modern desktop is to dramatically improve the volume and quality of innovation produced and increase security.
When creating a modern digital workplace, the organization does not solely get upgraded with new software or devices. It involves a shift in thinking about how work gets done.

It's also about creating an environment that fosters collaboration, work, life balance and productivity.
What's in it for the User?
For the end user, a Modern Desktop offers improved collaboration opportunities. Applications like Microsoft Teams allow for chat, file sharing and video conferencing all in one place. This allows staff to connect in real time regardless of their location. Teams also integrates with the full Microsoft 365 suite of products and an increasing catalogue of third-party programs.

With files saved in SharePoint, staff can hold meetings via Teams, edit a document in real time and resolve any issues or concerns without the need for endless emails. In a nutshell, a modern desktop offers businesses unmatched mobility and staff gain access to information at their fingertips, whenever and wherever they need it.
Getting There
The process of transforming your business into a modern desktop varies depending on your current infrastructure, software and systems in use. To transition your business, consider the following steps:

Identify the current state of your data, where is it and in what format?

Assess the security measures you currently have in place.

Identify the server configuration you have in place. Have you started/completed a Cloud migration?

Cleanse all data and shift to SharePoint.

Configure security.

Provide training to end-users on any new programs.

A modern desktop transformation requires technical expertise to ensure all elements are correctly configured and optimized. If you do not have specialized in-house modern desktop experts, it is wise to identify a subject matter expert to partner with.
What's Next?
A Modern Workplace is the journey of making sure the culture and creativity of your organization is ready to move forward on a digital path.

If you're just learning about Teams and want to understand what it is, how to get it and even how it compares to other solutions in the market? Our website is the perfect place to start!
Already part way through your Teams journey, read our previous blog on how you can Drive Teams Adoption and Move Towards a New Modern Workplace.

No matter where you are in your Modern Workplace journey, AMTRA can help. Give us a call 1.855.326.0533 or send us a note info@amtrasolutions.com.